Haiku Canada Week-end
The Conference | Why you should go | The Comics
2012 |2010 | 2009 | 2007 | 2006
The conference
This annual conference of the Haiku Canada group takes place every year in May (during the Victoria Day long week-end) in a different city in Canada. Past cities include: Vancouver, Toronto, Ottawa, Newfoundland, etc.
The highlight
The highlight of the conference is a night renku party lead by Marshall Hryciuk where participants write a 36 links renku. The renku takes place over the course of two nights (Friday and Saturday nights) and participants stay up til 2 am sometimes to write haiku, drink sake and eat snacks. Lots of fun!
The resulting renku is published in the Haiku Canada Newsletter.
The schedule at a glance
Friday: greeting from the Haiku Canada president, introduction of the participants with a robin-style reading, book launch, workshops or presentations. At the end of the evening, participants either retire to the their room, or head to the renku party lead by Marshall Hryciuk which will run until late in the night.
Saturday: full day of conference workshops and presentation, gingko inthe afternoon, dinner/banquet in the evening.
Sunday: the morning starts with the Haiku Canada General Assembly (only Haiku Canada members can attend and vote), followed by more conference presentations (everybody is welcome), then closing words by the president.
Who will be there
About 35 participants, mostly from Canada, but also from the US and other parts of the world (including Japan).
Make friends.
Meet the founding members of Haiku Canada (and Haiku Legends): Marco Fraticelli, George Swede, Marshal Hryciuk, Nick Avis.
If the conference takes place in your city, you really have no excuse not to go!
Haiku Canada 2012 (Toronto, ON)
The Haiku Canada weekend 2012 took place at the York University Glendon College in Toronto, from May 18 to May 20, 2012.  All the activities took place in the ballroom of Glendon Manor, a beautiful manor with cobblestone, garden at the front, and rose garden in the back.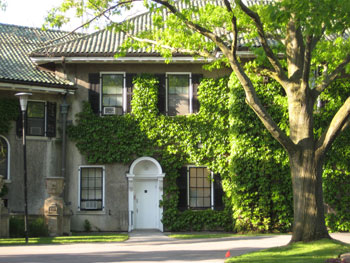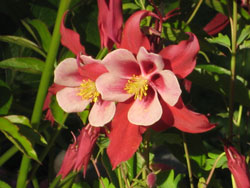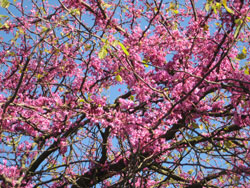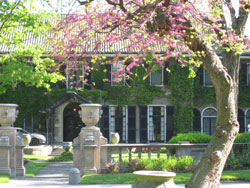 Haiku poets were captivated by the sculpture of a frog riding a turtle in the garden, in front of the fountain.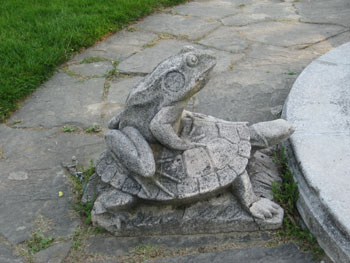 Night Renku
One of my favourite activities at Haiku Canada is the night renku lead by Marshall Hryciuk.  On the first night, with a dozen poets participating, we manage to complete 36 links between 9.00pm and 12.30pm. 
The second night was more difficult, lots of people decided to go to bed early, leaving a small group of us (5-6) to find links to difficult verse such as "kokopelli`s flute".
As we struggled, there were roars of laughters from the next table where George Swede, Anita Krumins and other Living Legends of Haiku Canada, were doing an "anti-renku", a renku that doesn't have any rules and doesn't have to make sense. Our renku was finished at 1:30 am.

Leaving Toronto, the wheels of my luggage broke down. It was the second set of luggage I lost in the rough streets of Toronto:

Haiku Canada 2010 (Montreal, QC)
The 2010 Haiku Canada week-end took place at McGill University in Montreal from May 21-23 2013. More than 80 people attended (a record number!), thanks to the presence of 3 haiku groups - haikuquebec, Groupe Haiku Montréal and Black Tea Group - and other members coming as far as Vancouver and Japan.
Check out the photos taken by Dave Russo.
Book launch: Angela Leuck "Dusting the Buddha" (Collection Hexagram) ; Barry George, "Wrecking Ball and other urban haiku" (I helped read the French translation of Barry's haiku).
Bilingual presentation of Micheline Beaudry & Mike Montreuil "L'américanité des poètes canadiens-français"
Jeanne Painchaud "Haiku InSitu"
Terry Ann Carter and Angela Leuck "Teen Haiku", 
DeVar Dahl and LeRoy Gorman "Haiku in School"
Luce Pelletier and Huguette Ducharme read "Renku Ete Salsa"
I met Elsie Surena, a haijin from Haiti.
Favorite haiku moment: Claude Rodrigue, Jean Dorval and I were sitting on a bench on Mont-Royal, after the ginko, when a gust of wind made hundreds of maple keys fall on us.
Claude Rodrigue won 1st prize in the French kukai with the haiku he wrote during our walk:
Panneau d'autobus
"recyclez votre vieux bazou"
odeur d'essence
-- Claude Rodrigue (Baie-Comeau, QC)
Haiku Canada 2009 (Vancouver, BC)
The conference
The Haiku Canada 2009 conference took place from May 15-17 2009 at the University of British Columbia in Vancouver, BC.
I did my first reviews of a haiku conference in comics. The comics were posted on my blog after the conference. The seven comics were so popular that I continued the tradition of reviewing conference sessions each time I attended a conference after that.
Highlights of the conference:
The beautiful location of Vancouver.


Renku party with Karen Soehne and Marshall Hryciuk

Presentation of the book Haiku for the 21st Century from the Modern Haiku Association by Winona Baker.

Discovering Gusts: Contemporary Tanka journal.

Michael Dylan Welch on déjà-haïku 

Ginko walk at the Nitobe Japanese Garden.

More highlights:
Greeting of Haiku Canada President DeVar Dahl
Janick Belleau on women and haiku.
Joanne Morcom on yoga laughter
Ginko at Nitobe Garden (kukai)
Carole MacRury reads from her book "In the Company of crows"
Winona Baker received an hommage and reads from the book Japanese Gendai
Marco Fraticelli, presents Hexagram series.
Morning renku with Alice Frampton
Haiku Canada 2007 (Ottawa, ON)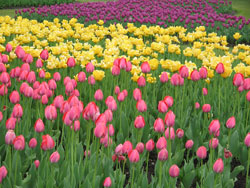 The conference
Haiku Canada 2007 conference was held at the Carleton University, in Ottawa, from May 18-20 2007. Each participants received a beautiful Haiku Canada 30th anniversary coffee mug imprinted with the theme of the conference "Blossoming".
Some highlights
The holographic anthology "Blossoming" was launched: 82 pages of original art and poems by Haiku Canada members.
Book launch included: Flower Heart by Angela Leuck and The Haiku Apprentice by Abigail Friedman.

Philomène Kocher and Marjorie talk about their experience, giving a haiku workshop to patients with Alzheimer.
Rick Black presents Turtle Light Press et reads poems in hebrew.
I meet Angelee Deodhar from India who created a show mixing classical indian dance and haiku
The ginko
I spend time with Micheline Beaudry and Mike Montreuil. We walked to Lake Dowe, where the tulip festival is taking place, for our ginko walk.
Haiku Canada 2006 (Vancouver, BC)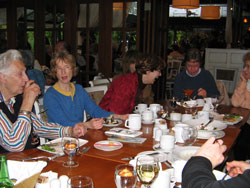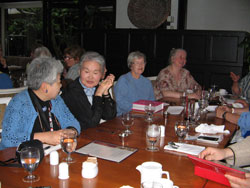 The Haiku Canada Week-end 2006 took place from May 19-21 at the University of British Columbia, in Vancouver.
The ID badge was a branch of cherry tree. There were about 40 participants (mostly Canadians) including 6 Americans, 3 Australians, 4 Japanese.
Ginko at Nitobe Garden
Alice Frampton won the first prize in the kukai with her beautiful haiku written during the ginko walk at the l Nitobe Japanese garden:
maillard pair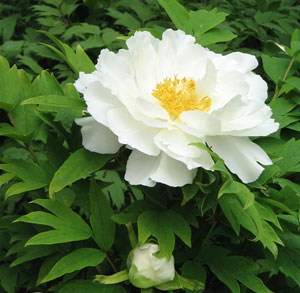 he rocks
on her wake
- Alice Frampton
Renga
During the walk in the garden, Michael Dylan Welch asked if I want to participate in a renga. I wrote a haiku and he added two lines:
floating leaf
a raindrop
pushes it in (JT)
at the video store
titanic out of stock (MDW)
Some highlights
Howard Lee Kilby tells us about a zen retreat in Paris.
Mariko Kitakubo performs a traditional japanese dance for us.
Heather Isaacson et Joyce Taylor, from Alberta, reads cowboy haiku. Following their presentation, Haiku Canada DeVar Dahl can't resist reciting his famous haiku:
my best moo
all the cows look up
in silence
-- DeVar Dahl
90 frogs
I ask Tenzing how he got the idea for his book 90 frogs. To celebrate his mother's 90th birthday, he wrote 90 haiku on origami frogs and placed them in a box, with the book, as a gift.
Ginko at Van Dusen Garden
We concluded the week-end with a ginko Van Dusen Botanical Garden where we were impressed by a row of trees called "Golden Tears".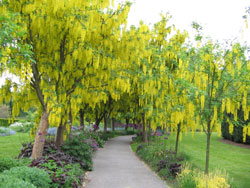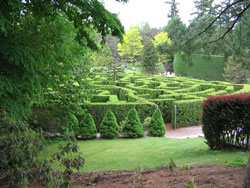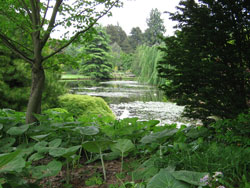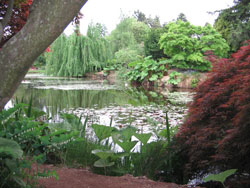 [top]
Next Chapter: Haiku Hot Springs »