List of Haiku Contests 2014
January | February | March | April | May | June | July | August | September | October | November | December | [Français]
January [top]
---
January 31 2014: Haiku Canada Members Anthology (to be published in May 2014), editors are Mike Montreuil and Nick Avis. Submit 5 haiku (published or unpublished) to anthology@haikucanada.org Be sure to include credits for previously published work.
January 31 2014: San Francisco International Rengay Competition, organized by the Haiku poets of Northern California
Jan. 31 2014: GENJUAN INTERNATIONAL HAIBUN CONTEST 2014

February [top]
---
February 1 2014: Betty Drevniok Award 2014 for members of Haiku Canada. No entry fee this year. Send three haiku to claudiaradmore@gmail.com Winners announced May 2014.
February 1-28, 2014: National Haiku Writing Month. Write one haiku per day for a month and post your poems on NaHaiWriMo Facebook page). Check out my NaHaiWriMo haiku-comics from 2011, 2012, August 2012, 2013.
February 10 2014: Antholody of Canadian Poets (trilingual English/Punjabi/Hindi) Amarjit Tiwana will publish an anthology of Canadian haiku poets, with translations of each of four haiku into Punjabi and Hindi.  The aim is to form a bridge between haiku poets in India and Canada. This anthology, entitled Wah, will be released at the 2014 Haiku Canada Weekend in Ottawa. Please send directly to Amarjit four traditional haiku, (three lines with kigo), one for each season by February 10, 2014.  sathitiwana@hotmail.com
Feb 15 2014: 1st annual Under the Basho International Haiku Contest
February 28: Ito En Oi Ocha Haiku Contest 2014
February 28 2014: International Haiku Contest "Sharpening the Green Pencil" Submission period begins Feb. 1 and ends Feb. 28. Send 2 unpublished haiku.
February 28: The HSA Bernard Lionel Einbond Renku Competition.

March [top]
---
March 14 2014: THE 16TH APOKALIPSA HAIKU CONTEST
March 25 2014: The Nicholas A. Virgilio Memorial Haiku Competition for Grades 7-12
March 31 2014: Haiku Contests 2014 by Romanian magazine Haiku.
March 31 2014: Mildred Kanterman Memorial Merit Book awards for excellence in published haiku, translation and criticism. No entry fee.
March 31, 2014: Haiku Now! contest by the Haiku Foundation. Prizes will be awarded for English-language haiku in three categories: traditional, contemporary and innovative. One haiku per category. Free.
March 31 2014: 13th World Children's Haiku Contest 2013-2014 (sponsored by JAL Foundation). The themed is ' DREAMS '. Children  up to age 15 can send one unpublished haiku for the theme "DREAM" in English or French, in own hand-writing or typed  and an illustration on a 81/2 "x 11" letter size paper.

April [top]
---
April 15: Deadline to submit to Frogpond (Spring/Summer issue).
April 17 2014: It's the day dedicated to Haiku during Poetry Month!

---
May 16-18 2014:Haiku Canada Week-end in Ottawa, Ontario. The author of Old Pond Comics will be there with two new mini-comics

.
May 31: Haiku Society of America Members's ANthology 2014. Theme: No theme. All members will receive a free copy of the anthology. Submit five unpublished or previounly published haiku and/or senryu. If a previously published poem is submitted, please include the name of the publication, volume, issue, and year. Send to hsaanthology2014@aol.com

(May 31: Annual Yuki Teikei Haiku Society Kiyoshi & Kiyoko Tokutomi Memorial Haiku Contest (to be confirmed)

June [top]
---
June 2 2014: Vancouver Cherry Blossom Festival Haiku Invitational

July [top]
---
July 31: The Snapshot press echapbook award 2014. (Submission period beings March 1 and ends July31).
July 31: The Annual Harold G. Henderson Awards for Best Unpublished Haiku 2014 
July 31: The Annual Gerald Brady Memorial Awards for Best Unpublished Senryu 2014

August [top]
---
August 1: Deadline to submit to Frogpond (Fall issue).
August 15: UHTS "Fleeting Words" Tanka Contest
August 30: Seven Hills Literary Contest and Penumbra Poetry and Haiku Contest
August 31: Deadline to submit to Haiku Canada Review for the October issue. Send to Leroy Gorman publications AT haikucanada DOT org
September [top]
---
September 1 2014: 18th Mainichi Haiku Contest.

September 1 2014: Francine Porad Award
September 8 2014: Kusamakura Haiku Competition
September 15 2015: BC Writers Council Grant.
October 31 2014: ITO EN North America The art of haiku contest (for US Residents only)

October [top]
---
October 1: Canada Arts Council grants for Creative Writing (for published Canadian authors).
October: 24-Hour Comics Day. The author of Old Pond Comics will create 24 comic strips in 24 hours for the fourthyear. Check out my 24-Hour Comic 2010, 2011, 2012
October 16-19, 2014: Seabeck Haiku Getaway (Seabeck, Washington). The author of Old Pond Comics will be cartoonist-in-residence. Register now! [Read the Seabeck Comics from 2013]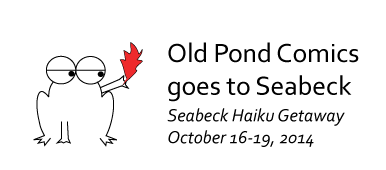 November [top]
---
November 15: Deadline to submit to Frogpond (Winter issue).
November 30: Irish Haiku Society International Haiku Competition (to be confirmed)
November 30: 9th Annual Jerry Kilbridge Memorial English-Language Haibun Contest (to be confirmed)
December [top]
---
December 6 2014: Haiku International Association Haiku Contest
December 31: Deadline to submit to Haiku Canada Review (February issue) at publications AT haikucanada DOT org

2015
January 31 2015: deadline to submit to Haiku Canada Members' ANthology (to be published in May). For HC members only.
February 2015: NaHaiWriMo
April 15 2015: UHTS "aha" (Annual Hortensia Anderson Memorial Awards) for haiku/senryu
May 2015: Haiku Canada Weekend in Victoria, BC. The author of Old Pond Comics will be attending and presenting.
October 2015: Haiku North America in Schnectady, New York. The author of Old Pond Comics will be attending. [Jessica Tremblay was the official cartoonist-in-residence during Haiku North America 2014 on the Queen Mary (Long Beach, CA): read the HNA 2013 comics.]
Disclaimer: Old Pond makes every effort possible to publish the information as accurately as possible but recommends that the reader verify the information prior to entering a contest.
[top]

Next Chapter: Games>>