Haiku Conferences
Since 2006, I've attended many haiku conferences - such as the Haiku Canada Weekends - and acted as the official cartoonist-in-residence for Haiku North America, Seabeck Haiku Getaway, and Haiku Hot Springs. (Check the links on the left sidebar for more information on these conferences).
To find out more about the cartoonist-in-residence program, or to invite me for your next haiku events, visit the cartoonist-in-residence page.
Attending a Haiku Conference
Attending a conference is a great way to meet other haiku poets and make new friends, but it can be scary if it's your first time, so I've prepared the following tips.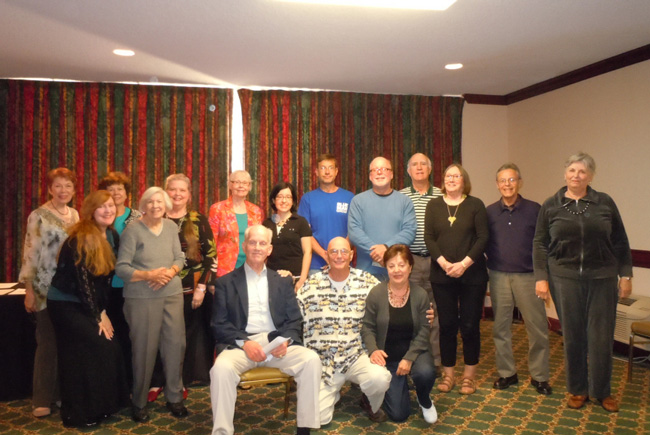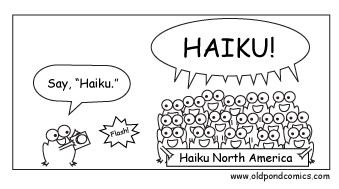 Start small
---
Start by attending your local haiku group. When you feel comfortable in a haiku group, consider attending a haiku conference.
Where to, sir/madam?
---
To attend a haiku conference, you don't necessarily have to travel far.
Haiku Canada holds its annual conference in a different Canadian city during the May long week-end.
The Haiku Society of America holds four quarterly meetings in different American cities every year. If one of these conferences come to a city near you, here's your chance!
Haiku North America, the biggest haiku conference in North America, takes place every two years (next HNA will take place in Schnectady, New York in October 2015).
There are also many international haiku conferences in Europe and in Japan.
What to expect
---
During their annual conference, Haiku Canada and Haiku Society of America will hold workshops, lectures, gingko, renku, banquet, and lots of haiku-related activities (open to all attendees). They also hold their annual general meeting during that week-end (for members only).
At Haiku North America, they have a scheduled jammed-pack with workshops, readings, lectures, exhibits, gingko, etc. They have so many activities that the programs run in two, sometimes three, different rooms at the same time.
Conference Tips
---
Make your travel arrangements early

Enjoy sightseeing


Participate in the gingko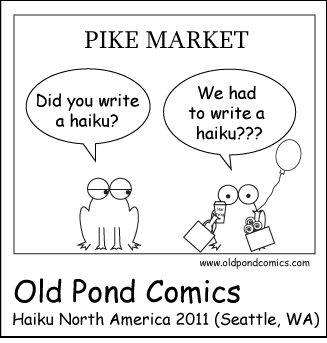 Bring some of your haiku.
Most conferences include a robin-style reading (where everybody reads one haiku) or an open-mike. Reading your haiku in public can be scary, but it's a good way to get people to know you (especially if you are new).

Bring a freebie
Most conferences have a table where you can leave promotional items (bookmarks, postcards, free mini-chapbooks, etc.)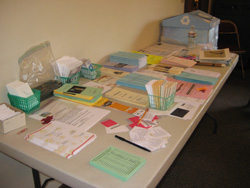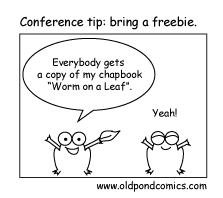 Attend a workshop

Attend a lecture on an unusual subject


Attend a haiku reading

Talk to your haiku idol


Be respectful

Attend the renku party
Haiku Canada have a renku party that runs late into the night and a renku party that starts early in the morning. Feeling brave? Attend both.

Group photo
Smile, don't be shy, and put yourself in the picture. At Haiku North America, the group photo is included in your registration fee. What a great souvenir!


Banquet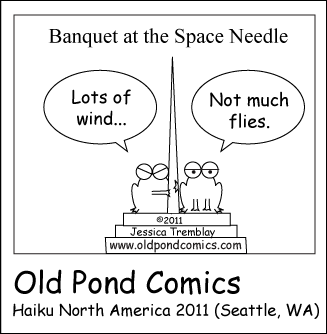 Attend social gatherings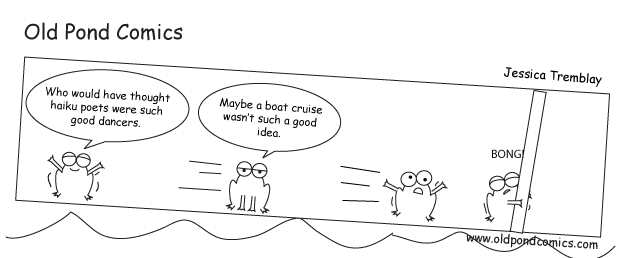 Try something new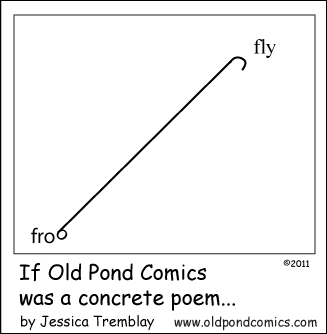 Attend a haiku conference: you will come back transformed!

[top]

Next Chapter: Haiku Canada >>