NaHaiWriMo 2012
Master Kawazu and his apprentice Kaeru write one haiku a day for a month during the second National Haiku Writing Month (NaHaiWriMo) from February 1-29, 2012.
The daily prompts (alphabetical) came from Michael Dylan Welch, the creator of the event.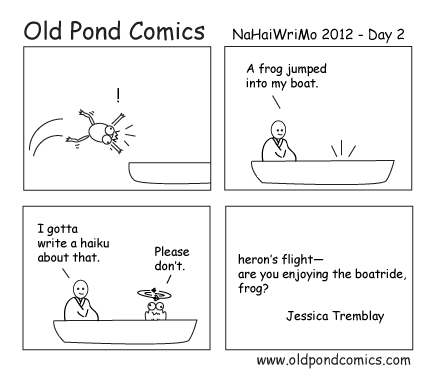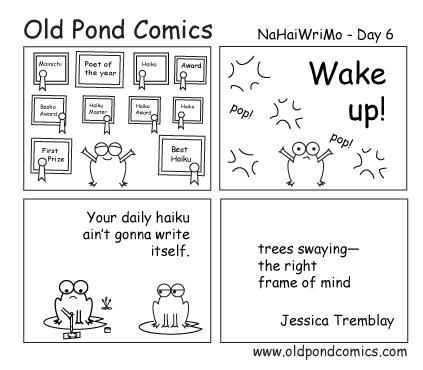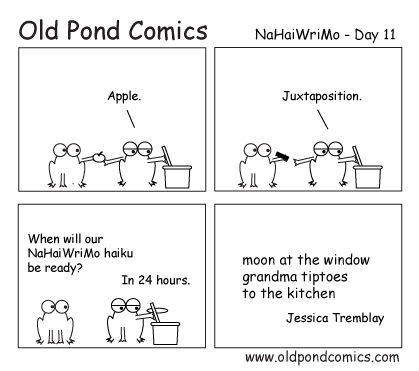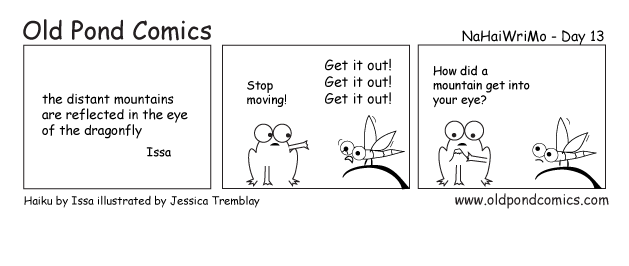 Day 25 (yellow): haiku by Ryunosuke Akutagawa

Day 26 (letter z):

Day 27 (a bad haiku):

Day 28 (improve a computer-generated haiku):

Day 29 (leap year):

(*) Written, drawn and posted onlineon NaHaiWriMo' Facebook page between February 1-29, 2012.
Can't see the recent comics on this page? You'll find them on my blog
---
Thank you
to all my readers especially the ones who liked the comics and left generous comments on Facebook. Your kind words of support kept me going during NaHaiWriMo. I could'nt have done it without you!

Special thank you to Michael Dylan Welch for creating the NaHaiWriMo challenge.

[top]

Next Chapter:NaHaiWriMo August 2012