Hire a cartoonist-in-residence
Jessica Tremblay started her cartoonist-in-residence program in 2013 as part of her outreach program.
What does a Cartoonist-in-Residence do?
A cartoonist-in-residence will provide comics to promote your conference.

Before the conference
The cartoonist-in-residence will:
*help promote your conference by providing comics to post on your website, blog and social media (this will increase visbily and attendance)
*provide comics to include in your printed or online program/schedule
*prepare a personalized comic for each attendees (for conference of less than 15 people only)
During the conference
The cartoonist-in-residence will:
*attend presentations/workshos and create comics that will summarize most sessions in a three-panel comic strips.
* present the conference comics at the closing session (30 minutes).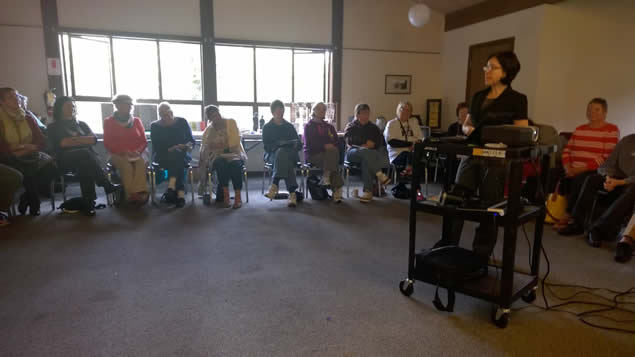 After the conference
The cartoonist-in-residence will:
*upload the comics on her website, blog and social media for all attendees to view and share
* create a special page for your conference on her website including comics and photos of the event

*use proper SEO so the conference comics will show up in search results when people google your conference. They'll be able to read a review and get excited to register to the conference.
Official Cartoonist-in-residence:
Letter of recommendation

Jessica Tremblay was the Cartoonist-in-Residence for the Haiku North America 2013 conference, which was held on the Queen Mary in Long Beach, California from August 14-18, 2013. Jessica's comics were featured on the conference blog once a week before the conference. This batch of comics featured "helpful hints" for potential conference attendees. These comics were also printed in the conference program as well as being featured in social media (facebook, twitter).

During the conference, Jessica created new comics capturing memorable moments of the conference which were then presented to attendees at the conference closing ceremonies.

Jessica's work was well received by attendees, and her closing ceremony presentation captured wonderful memories that will be long-treasured by all who attended. Jessica's contribution to the closing ceremonies also helped bind attendees together in shared laughter over shared experiences. It was a very meaningful way to close the conference.

Jessica's work greatly enhanced the conference experience for attendees and we feel fortunate to have had her on board!

Deborah P Kolodji
HAIKU NORTH AMERICA 2013 conference organizing committee co-chair
I want to hire you as cartoonist-in-residence!
Super! Don't waist a minute and contact me now. If your organization cannot cover the cost of my travel expenses, there are grant programs I can appeal to, but the answer takes time to arrive.
For more information
contact me at oldpondcomics AT GMAIL DOT com


|
Next Chapter: Back to the Conferences »»