Haiku Canada Weekend
The Conference | Why you should go | The Comics
2017 | 2016 | 2015 | 2014 | 2012 | 2010 | 2009 | 2007 | 2006
The conference
---
This gathering of Haiku Canada members takes place in May, during the Victoria Day long weekend, in a different Canadian city. Past cities include: Calgary, Montreal, Ottawa, St.John (Newfoundland), Toronto, Vancouver, etc. The conference runs from Friday evening to Sunday morning.
The highlight
---
The highlight of the Haiku Canada conference is a night renku party lead by Marshall Hryciuk where participants write a 36-links renku. The renku takes place over the course of two nights (Friday and Saturday) and participants stay up late in the night (sometimes past 2 a.m.) to write haiku, drink sake (after the sixth verse) and eat snacks. The renku is read at the end of the conference and later published in the Haiku Canada Newsletter.
Another highlight of the conference is the banquet held on Saturday night. The banquet comes at an extra cost (around $40), but is well worth it, as you get to eat with friends and enjoy an evening entertainment at the end of the dinner. Don't miss it!
The schedule at a glance
---
Friday
Saturday
Sunday

3-5pm registration

7pm Greeting by Haiku Canada president

Robin-style reading (bring some of your haiku)

Launch of Haiku Canada Members Anthology

Workshops

Presentations

Night renku party lead by Marshall Hryciuk

Anonymous haiku workshop

Presentations

Readings

Gingko walk

Banquet

Night renku party with Marshal Hryciuk

Haiku Canada General Assembly (for Haiku Canada members)

Presentations

Book launches

Announcing winners of gingko walk contest

Reading of the night renku

12:30pm Closing words and announcement of next year's conference.
Who will be there
---
About 40 participants, mostly from Canada, but also from the US and other parts of the world (including Japan).
The number of participants rises if the conference is taking in a big city such as Montreal (approx. 80 participants), or Ottawa/Toronto/Victoria (approx. 50-60).
Why you should go
---
Haiku Canada members are really friendly: they will greet you with open arms, even if it's your first conference, and you will be immediately part of the family!
You'll have the chance to meet the founding members of Haiku Canada (our Haiku CanadaLegends!): George Swede, Marco Fraticelli, Marshal Hryciuk, Nick Avis, LeRoy Gorman, etc.
If the conference takes place in your city, you really have no excuse not to go! And the registration fee is really low (approx. $40)
Haiku Canada Weekend 2018 (Sherbrooke, Quebec)
---
The next Haiku Canada conference will take place at Bishop University in Sherbrooke in May 2018.
Haiku Canada Weekend 2017 (Mississauga, Ontario)
---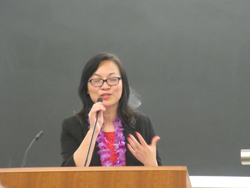 The Haiku Canada Weekend 2017 took place at the Mississauga campus of the University of Toronto from May 19-21, 2017. Anna Yin, poet laureate of Mississauga, was the host and organizer.
The schedule was a bit more informal this year. The program included a lot of book launches. It was like a haiku festival. We celebrated haiku in reading, writing, and sharing haiku in many ways.
On the final day of the conference, Old Pond comics were featured on the centerpieces at the banquet.
Friday May 19, 2017
The Haiku Canada Weekend took place at the the University of Toronto in Mississauga.
Registration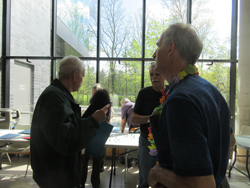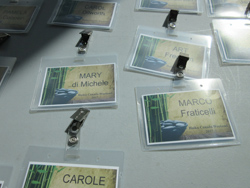 Conference - Day 1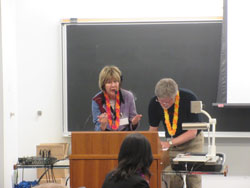 Terry Ann Carter, Haiku Canada President, welcomed attendees of the 40th anniversary of Haiku Canda. "'Haiku Canada is like a family reunion -- except we like everybody."
Emiko Miyashita was a guest of honour, participating in many discussions and debates, and offering insight on haiku in Japan and in the 21st century.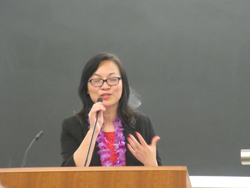 Anna Yin, the poet laureate of Mississauga was our host and conference organizer. She prepared a beautiful video to promote the conference in which Old Pond Comics was featured under "Humour in Haiku".
Haiku Canada Member's Anthology
Launch of Wordless: Haiku Canada Members Anthology 2017 edited by Claudia Radmore-Coutu and Marco Fratticelli.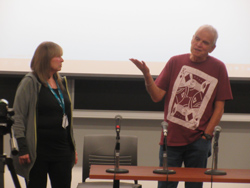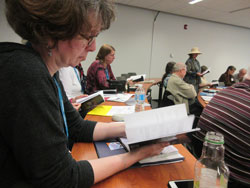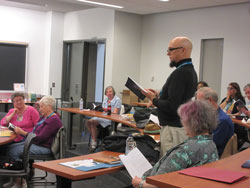 Vancouver Haiku Group in Dr. Sun Yat garden by Jacquie Pearce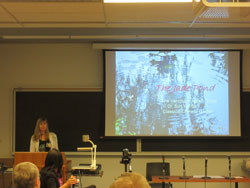 Launch of an anthology of haiku written in the Dr Sun-Yat garden in Vancouver by members of the VHG. Jacquie Pearce present poems with beautiful pictures of the garden .
city garden
what the architects
didn't plan
- Jacquie Pearce
koi feeding --
my mind drifts
to dim sum
-- Carole Macrury
What is haiku in 2017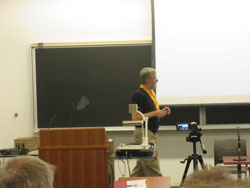 Nick Avis lead an active discussion with the audience, encouraging participants to express their opinion about what is haiku in 2017. 'Season word is what makes haiku unique in world literature' says Nick. 'Haiku is poetry' says Marshall. 'Juxtaposition is the key to haiku' says Charles. 'Haiku is a minimalist poem' says LeRoy. 'Haiku is like time-travel' says Debbie, because it captures a moment in time'.
However, 'A 'ahah' moment does not define haiku' - says Nick.
'The definition of haiku in Japan is a 5/12 syllables or 12/5 syllables, with a cutting word. But there are all sorts of haiku that don't follow the rules', says Emiko.
Game of Three
The day ended with a three-persons reading of a play by Nick Avis Game of Three.
After most participants go to bed, a group of 22 participants reunited in the lounge of the Oscar Peterson Hall (student residence) to compose a renku under the guidance of Marshall Hryciuk and assistance of Karen Soehne.
What is a renku?
A renku is a series of 36 linked verses. You start with a 3-line haiku followed by a 2 line haiku, then a 3 line haiku, etc. It's written as a group.
How does it work?
The renku leader provides the theme for each vers (example: 3 line, winter). Participants write their haiku on a piece of paper and give it to the leader to read. The leader will silently read the haiku. He might select the haiku or briefly comments on the reason the haiku is not selected while the participants return to his seats.
"You don't have to be sorry if you don't give me what I want", says Marshall.
"Warning: this is not a test" jokes Karen.
If you're lucky, he might like it enough to "keep it for later".
The first six verses
One of the rules of renku is you don't want anything too 'violent' in the first six verses. Rejected verses were deemed 'too jazzy', or included words that did not fit the quiet mood of the first six verses: "Howl is way too loud for the first six (verses)"
her post-surgery pain
while watching
I Love Lucy
- Deborah Kolodji
After the six verses
Things get more difficult since you cannot repeat themes or words that were used in previous verses. "For this link: no fruit, no furniture."
When we're asked to write verses on current events, the recent floods in Quebec and Ontario were on our mind: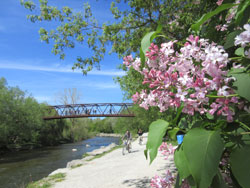 Toronto islands
nude beach
under water
- Karen Soehne
Also the G8 summit and the story of the woman climber stuck at the summit of Mt Logan after an earthquake: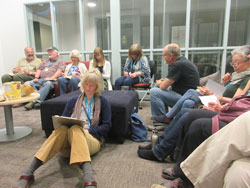 NO
WOMEN
AT THE SUMMIT
- Deb Koen
Mount Logan
rescue season begins
- KJ Munro
It can be difficult to write 2 line haiku if you're not used to it. Beware if you're trying to pass a 3 line haiku for a 2 line haiku, or vice-versa. The leader will catch it: "That's really a 2-liner."
When we approach the love verse, someone asks : "Will it be 2 or 3 lovers?" We all laugh. What she actually said was: "Will it be 2 or 3 love verses?"
she gives him a kiss
in the final burst
of fireworks
- Terry Ann Carter (link 14)
Misunderstanding can also happens when the leader has trouble reading your handwriting:
- Smuggling? asked Marshal reading a haiku.
- No, snuggling, says Dina.
A fun part of haiku is when we include a verse related to the place or something that happened in the renku session. In this case, the name of the student residence, Oscar Peterson, named after a famous jazz musician: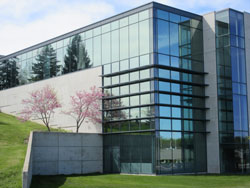 Oscar Peterson
hitting the high notes
dormitory-style
-Deb Koen (link 16)
to be continued...
The renku was held over 2 nights. You can read the rest of the verse in the Saturday section.
Saturday May 20, 2017
Memories of Haiku Canada by Emiko Miyashita.
"Haiku is a way of life. Write it, polish it, share it."
During her presentation, Emiko mentionned that 'In 2016, Jessica Tremblay helped create manga (for Haidan haiku journal in Japan). The series was a hit. Japanese people discovered haiku can be interpreted in many different ways, including manga."
In Japan, she did workshops. A student asked her in Japanese: "Old lady, why do you write haiku?"
Book tables
Freebies
A beautifl bookmark on handmade paper by kj munro, and more!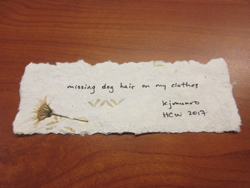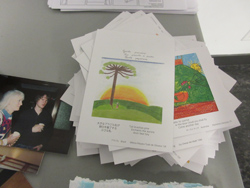 Auction
The Japanese charms went home with Marco Fraticelli.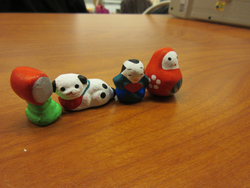 Conference - Day 2
Winnows
Maxianne Berger talks about Winnows, haiku glenned from Herman Melville's Moby Dick. It took her six years. She was carrying the pages of Moby Dick in her purse. She thought: "Coudl I find LOVE in the epilogue?" She looked and fount it from: "fell over"
Here's my hommage to her beautiful book.

Body of Evidence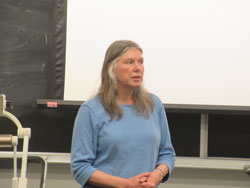 KJ Munro presents 'Body of Evidence', a collection of crime haiku, or "killer ku", written for the national crime writers exhibit at the Whitehorse public library last year.
"Read us a sentence!" yells Marshall, producing much laughs.
The book is published by Claudia Radmore-Coutu and 10$ procceeds go to Haiku Canada fundraising
Leaf taking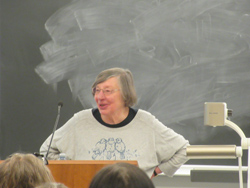 Marilynn Potter reads from he book "Leaf Taking", concluding with: "You have to buy the book if you want (to read) the sex."
Michael Dudley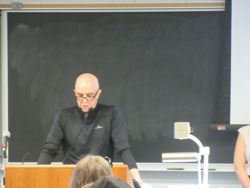 Michael Dudley reads accompanied by an Objiway musician (playing drums, flute, electric banjo and ukulele) and an Iranian woman translating (in words and gestures) in Iranian.
The business of Isness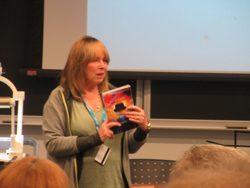 Published by Claudia, The Business of Isness, is about a man dying from leucemia who played in 25 places and recorded even his last moment.
Ana Vakar's Haiku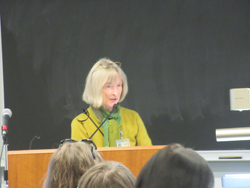 Vicki McCullough talks about reuniting the work of Ana Vakar in a book called Sysiphus: Ana Vakar's haiku" published by Claudia Radmore-Coutu.
Ana Vakar spoke Russian, French, English. She often said one of the advantage of haiku is to help perfect her English.
we part the moon follows us both
-- Ana Vakar (1979), oneline haiku
Old Pond Comics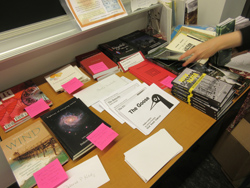 Gingko walk
Banquet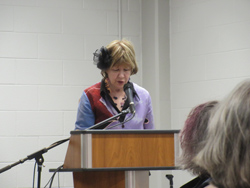 Anna asked me to send her some Old Pond comics and she turned them into beautiful centerpieces that decorated the tables during the banquet.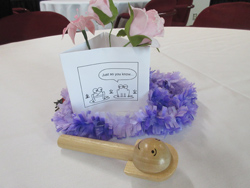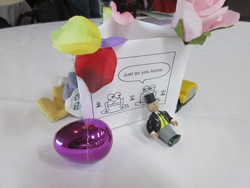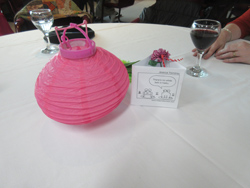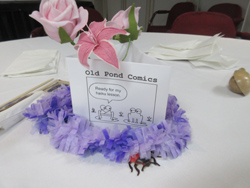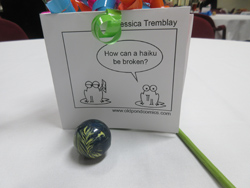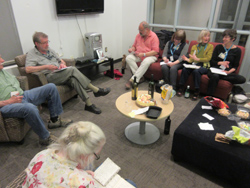 A group of 30 people reunited to finish the renku we started last night. (check out Friday to read an account of the first night)
This year, the renku included 'number' haiku, fantasy haiku, and ridiculous haiku. "Everybody is so serius for the ridiculous haiku." I looked up and saw my haiku right there:
electric outlets
on the ceiling
- Jessica Tremblay (from: 40 to infinity: renku, Haiku Canada 2017)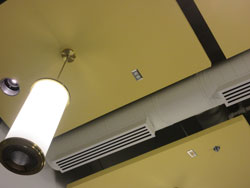 Another ridiculous submissions included the words written at the bottom of a painting hung on the wall of the student's lounge:
first
floor
friends
- painting on 1st floor student lounge of the Univeristy of Mississauga
- I want 2 line winter, but not short and not absurb, says Marshal.
-So, two boring lines?, jokes Karen Soehne.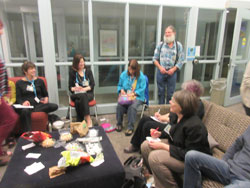 making
snow angels
in the cemetery
- Phil Kocher
"I don't like 'winter' in the winter link. "I don't like precipitations, and I'd like something cold." He was served with:
shaking the ice crystals
from his beard
like a dog
- Maxianne Berger
"Canada means, 'it's snowing somewhere' and Toronto means, 'space between snow'. (joke told by Marshal) We move to an inside scene to warm up: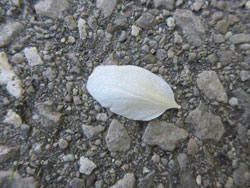 forgiving each other
over the rattle of dice
- Sandra
Then we write a 'unrequited love' verse. "Unrequited love means 'unconsummated" - Marshall
she hesitates
wether to take off
her mask
- Emiko Miyashita
It's time for the moon haiku. "For me, the moon is always autumn", says Marshal. "I don't like moon reflection. Forget about windows, water reflections, I just want the real moon."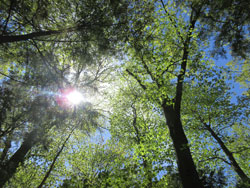 as the moon rises
a flock of starlings
in one tree
- DeVar Dahl (From: 40 to infinity: renku. Haiku Canada 2017, link 29)
digging potatoes
the boys start to play catch
- Dina E. Cox (From: 40 to infinity: renku. Haiku Canada 2017, link 30)
Then, it's a mythology link.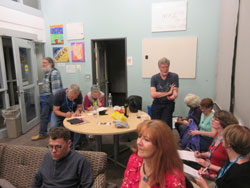 Chiron has lost his oars
and is beside himself
- Maxianne Berger
Then it's time for a 3 line fantasy haiku. When I say outloud that I'm spaced out because it's too late, Karen Soehne writes a spontaneous haiku:
spaced out
on moon cakes
we become pumpkins
- Karen Soehne (I don't think this one made it in the renku, but it was pretty funny)
Instead, the following verse was chosen:
the oracle at Delphi
answers the question
in a valtic language
- Deb (not sure if it`s more Deb Koen or Deborah Kolodji)
As for the 'current event' link, the recent floods in Quebec and Ontario were on our mind: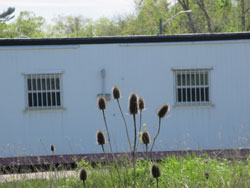 building a wall
out of sandbags
- Pamela Cooper
Then, the flower verse was attempted: "Too witty" or "It's not apositive view of flowers." Finally: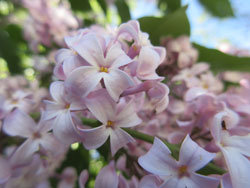 picking our way
over muddy ground
avoiding blossoms
- Gale
A mythological verse, based on a Pacific First Nations tale, was chosen to close the renku: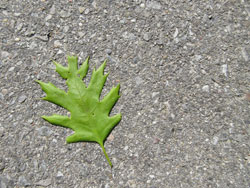 children climb out
of the clam shell
- KJ Munro (From: 40 to infinity: renku, link 36, Haiku Canada 2017)
We finished the renku the second night at 12:05am
Sunday May 21, 2017
Reading of the night renku
The title of the renku is 40 to infinity. The title is from a 'number haiku' written by Emiko Miyashita during the renku.
2017
40
to infinity
- Emiko Miyashita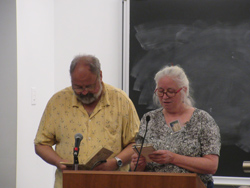 This table displays some of the haiku written during the renku.
Book launch
Touchstone Award
Debborah Kolodji reads from her chapbook who won the Touchstone Award:
light speed
a century ahead
of the speeding ticket
- Deborah Kolodji (Highway to...)
Erotic Haiku
Launch of Erotic Haiku: Of Skin on Skin, edited by Terry Ann Carter, containing work by 88 authors. The cover includes a beautiful collage by Terry Ann Carter.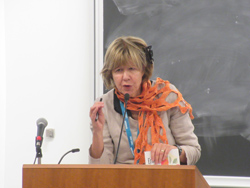 saying goodbye
our shadows
almost touch
-- Marco Fraticelli (Erotic Haiku: Of Skin on Skin, Black Moss Press, 2017)
The End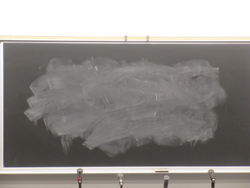 Next conference
The 2018 Haiku Canada conference will take place at Bishop University in Sherbrooke.
Haiku Canada Weekend 2016 (Whitehorse, Yukon)
---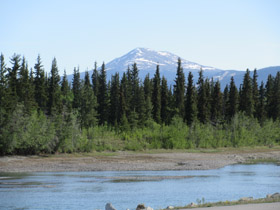 The Haiku Canada Conference took place in Whitehorse (Yukon Territory) from May 20-22 2016. I had the pleasure to be the keynote speaker and cartoonist-in-residence.
The theme of the conference was: Haiku North of Sixty... with frogs!
There were 48 people registered to the conference. I estimate that about 12 people came from the North (Yukon, Alaska), 25 from the West Coast (Vancouver, Victoria, Los Angeles), 6 from the East Coast (Montreal, Rigaud, Ottawa), 5 from various regions (U.S.)
Thursday May 18, 2016
Flying with AirNorth: no baggage fees, free food onboard, and Yukon hospitality!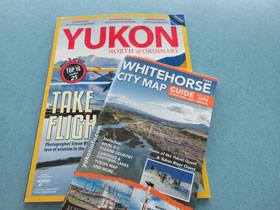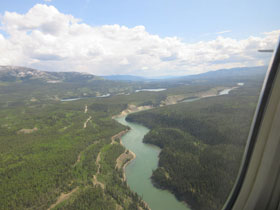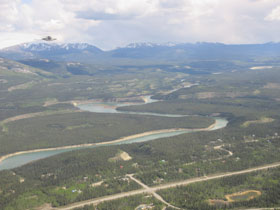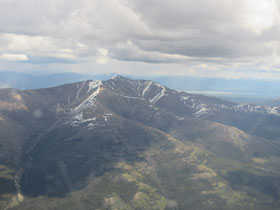 As we landed at Whitehorse airport, you could see purple flowers all around the landing strips: lupines. A definite sign that we were in Northern Canada. Arriving on another flight, an hour later, my friend Jacquie Pearce saw this:
alone at the airport
a coyote wanders
between the planes
- Jacquie Pearce
The conference hotel was the Best Western Gold Rush Inn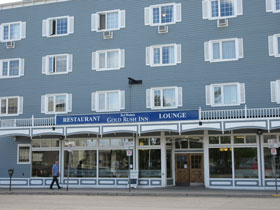 Once we checked in the hotel, we went for a stroll in the city. We came upon a window display at Mac's Fireweed bookstore featuring haiku books, my Old Pond Comics books, and three of my origami-haiku artworks.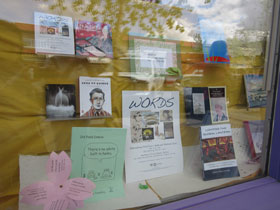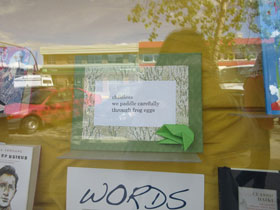 We reached the beautiful Yukon river.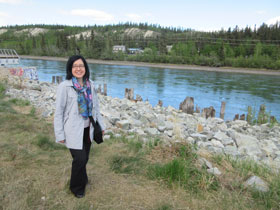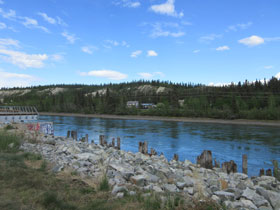 Trolley Ride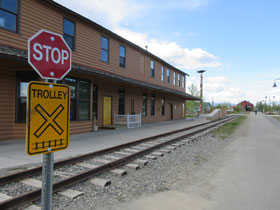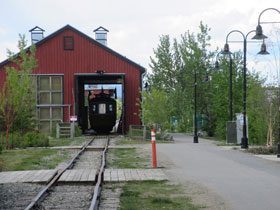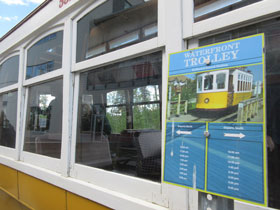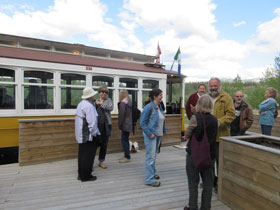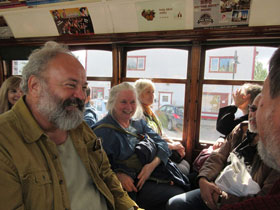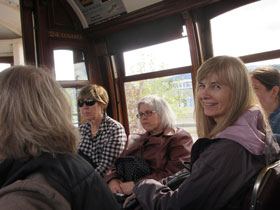 Our destination was the Northern Front Gallery to see the Words exhibit.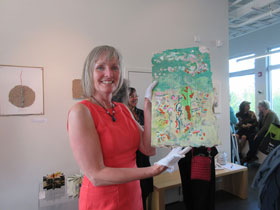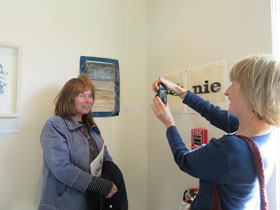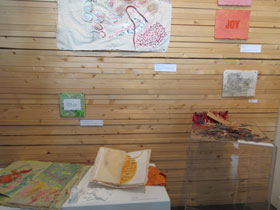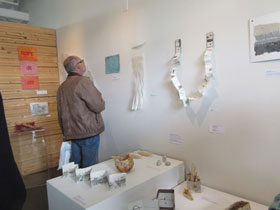 Yukon Public Library: exhibit of crime haiku.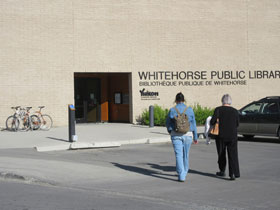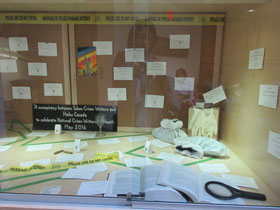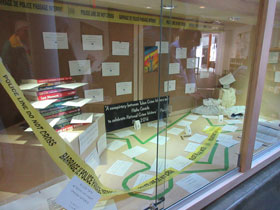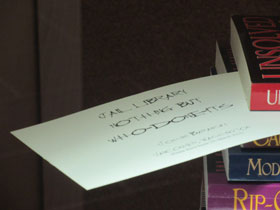 Midnight sun (almost)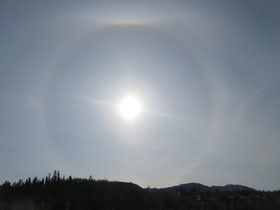 Around 6 p.m., we started to notice the sun was not "going down" at all, but instead was slowly moving sideways. There was not much difference between 6 and 7 and 8 p.m. It seems the sun didn't want to set!
"Jetlag is when you look at your watch and it means nothing."
9:44pm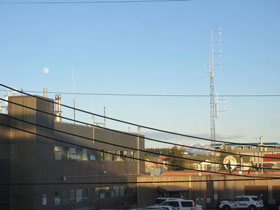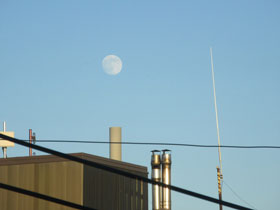 10:15 p.m.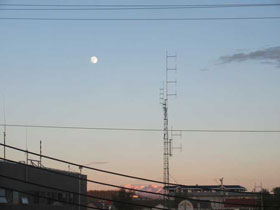 The sky never got completely dark. Instead of turning to black, the sky turned turquoize (dark blue).
It was a week-end of full moon. How lucky we were to be able to do moon-viewing while at a haiku conference!
Friday May 19 2016
Yukon River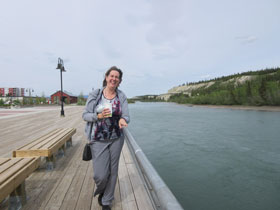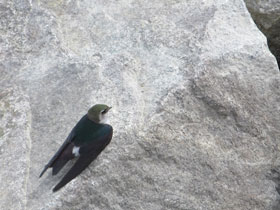 tree swallow's calls
carried away
by the river
-- Charles Trumbull (second place, Ginko Haiku Contest
At Tonimoe's, they had a breakfast special for FIVE-NINE-FIVE. Deborah P Kolodji joked that because it's haiku week, they should make it FIVE-SEVEN-FIVE.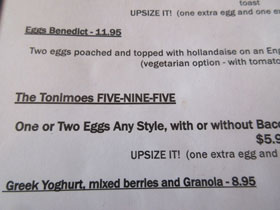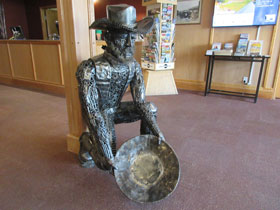 MacBride Museum. Gallery of stuffed animals. Sam McGee's log cabin.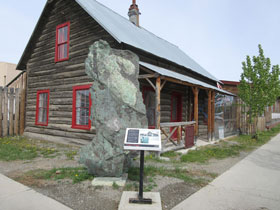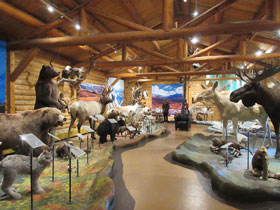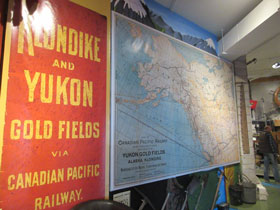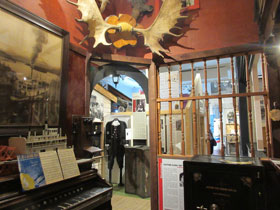 Haiku in the Park (reading at noon at Lepage park)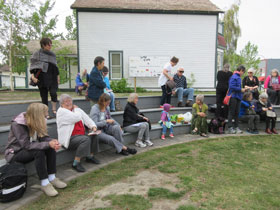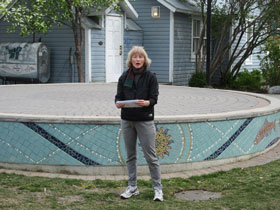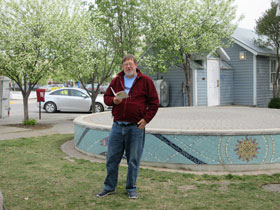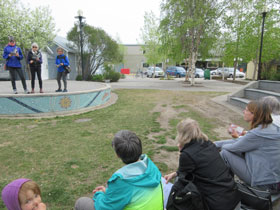 Registration
Lynne Jambor was distributing the conference packages. The was a local calligrapher who was writing our name on handmade paper donated by Helen O'Connor. The nametag also included a jumping frog.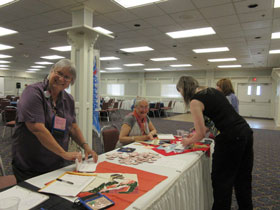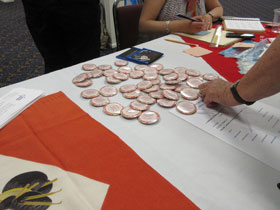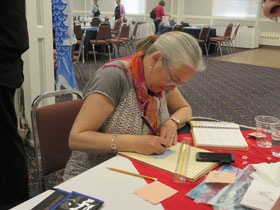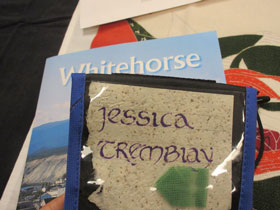 Freebie table. I especially enjoyed the beautiful kimonos-haikus by Claudia Radmore-Coutu.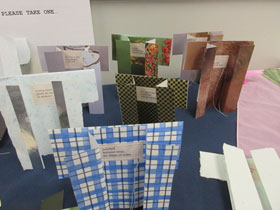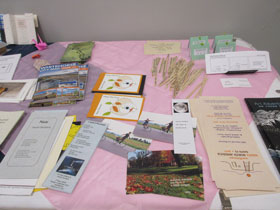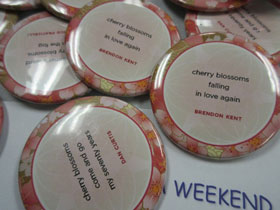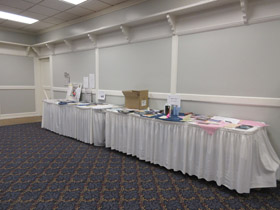 On Friday night, there was an amazing performance of music by Marco Fraticelli, dance-mime by Terry Ann Carter and projection of poems by Chiyo-Ni.

Whitehorse skyscrappers log cabins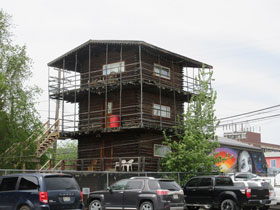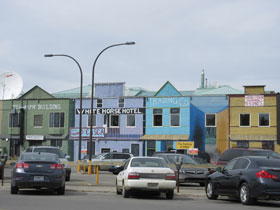 The Sour Toe Cocktail (consiting of a glass of alcohol with a human toe in it) is only served in Dawson City. In Whitehorse, attendees were able to sample Yukon Brew.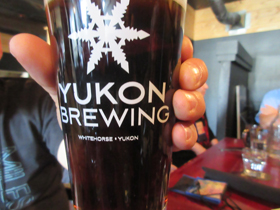 Saturday May 21 2016
Haiku Week
The Haiku conference made it in the Yukon newspapers!
This week was proclaimed Haiku Week and KJ Munro's haiku was read in the Legislature where it will be archived.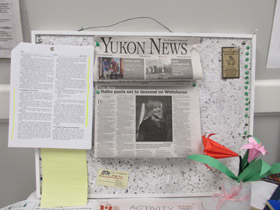 The Haiku Week Proclamation was published in the newspaper.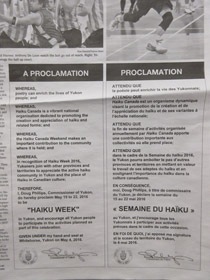 Conference
Angela Naccarato gave a tak about intuitive haiku and invited us to close our eyes for a short meditation exercise.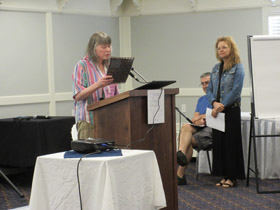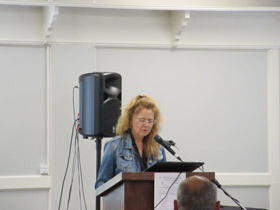 Carole MacRury talked about her photography and introduced us to various Japanese terms and ways to see beauty in everyday objects. Even mould growing on a tea bag can look beautiful if you look up close.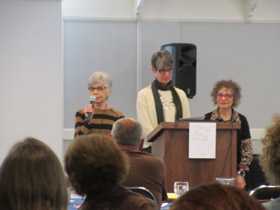 Deborah Kolodji talked about deja-ku and gave us tips on how to write an original haiku about a subject that has been tackled hundred of times, like birds on wires or kigos like divorce papers.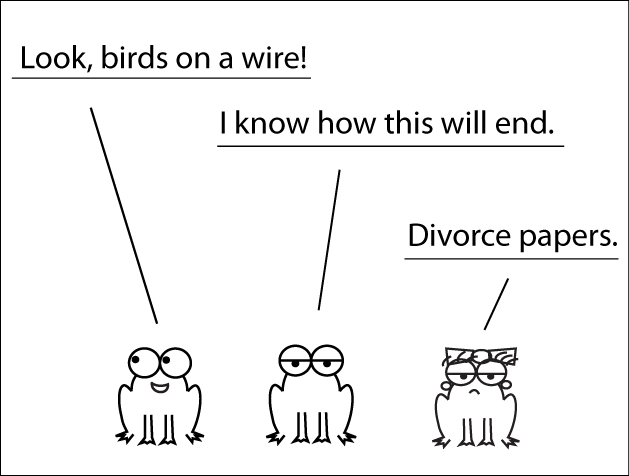 Tables were decorated with jumping origami frogs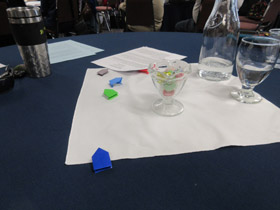 Ginko walk to the S.S. Klondike, a historic steamwheeler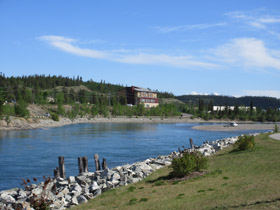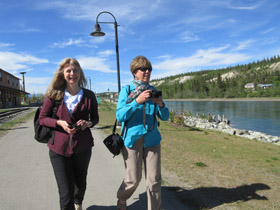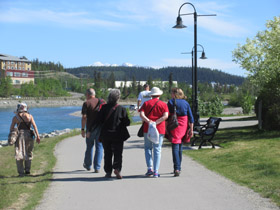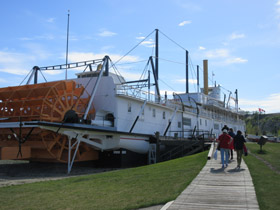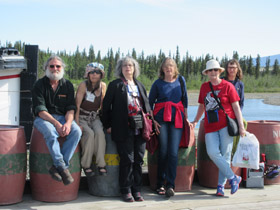 We were supposed to write haiku during the walk, but we were too tired.
Someone mentioned the clouds brushed by the wind were mare's tail. "The mare's tail is followed by the black stallion." It means that kind of clouds is followed by rain clouds.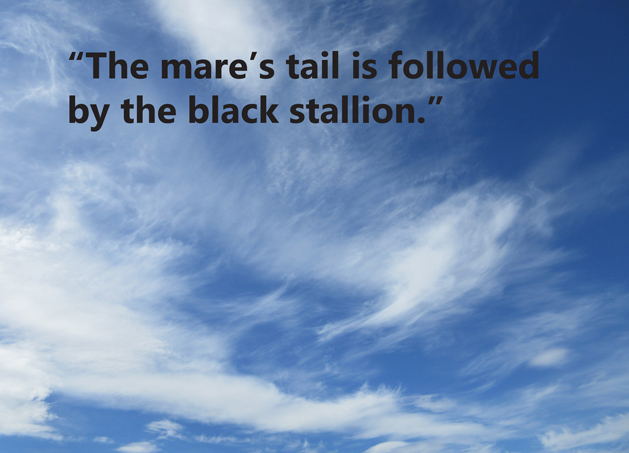 mares' tails
above the Yukon River
rock cairns
-- Deborah P Kolodji (Third Place, Ginko Haiku contest)
The views from the SS Klondike park were amazing.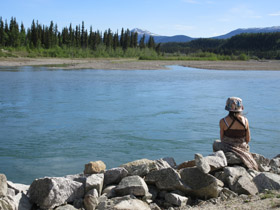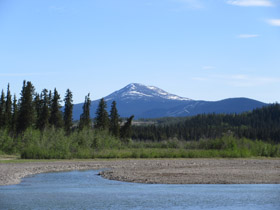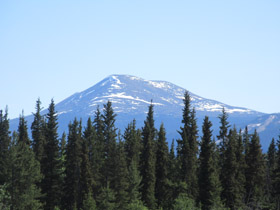 Banquet at Amy's Tea House. Marshal Hryciuk gave a talk about his first trip to Whitehorse. We celebrated Charles Trumbull birthday.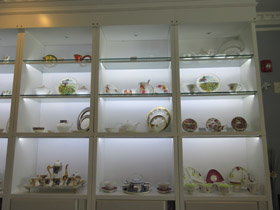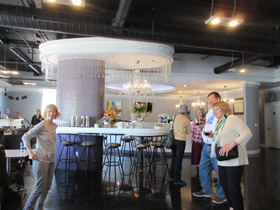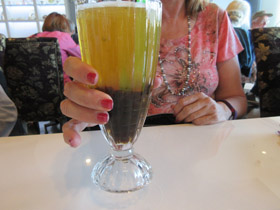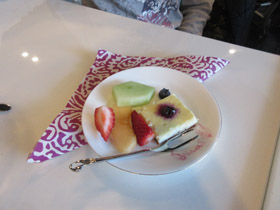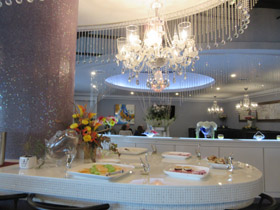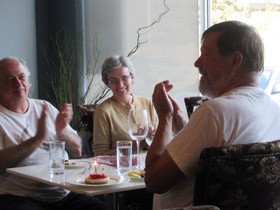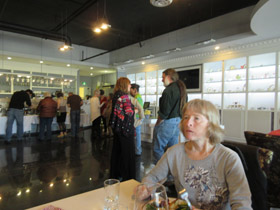 Sunday May 22 2016
Conference
Terry Ann Carter was wearing a beautiful kimono for her presentation. Someone asks if the kimonos at the entrance were hers. She said gracefully: "No. A girl can only carry so many kimonos."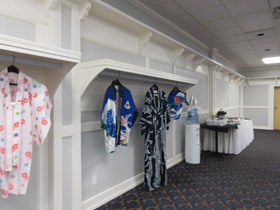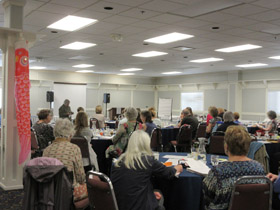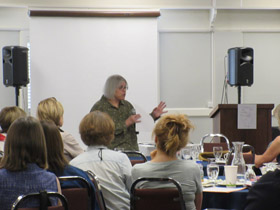 Cartoonist-in-residence
It's not everyday you get to open and close a conference! After the keynote speech on Friday, was now presenting cartoons I drew during the conference. My cartoonist-in-residence presentation took place on Sunday, a little after noon. My work as a cartoonist-in-residence was to sum up our collective experience at the conference and to give it back to the attendees in the form of a Powerpoint presentation (closing session), digital scrapbook (posted here), and photo albums to share on social media.
I will post the slides here shortly.
Prior to the conference, Kathy Munroe, the organizer, told me it sidewalks were so slippery in Whitehorse in the winter, that they were wearing ice climbing boots. I wondered what my frogs would use if they were in a similar situation... perhaps hedgehogs?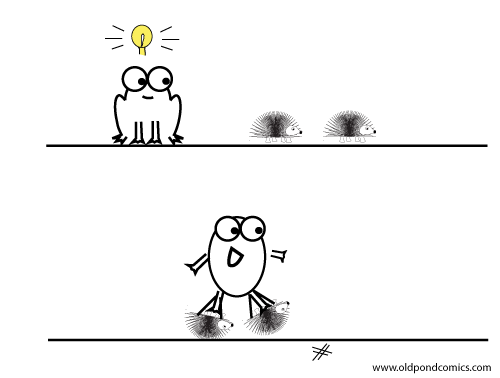 My frogs would probably need someone to guide them in Whitehorse, so I invented a new character: Polar frog, except you can't hear what he says through his scarf.

Betty Drevniok award and Ginko Winners
Ruth Powell from Prince George, a newcomer to haiku, won 1st place in the Betty Drevniok Award.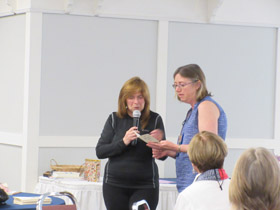 Ginko winners
Vicki McCullough judged the ginko contest. The winners were: Lynne Jambor, Charles Trumbull, Deborah P Kolodji, Maxianne Berger.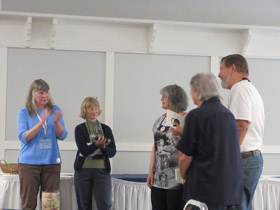 Whiskey Flats
no street untouched
by spring blossoms
-- Lynne Jambor (First Place, Ginko Haiku contest)
Renku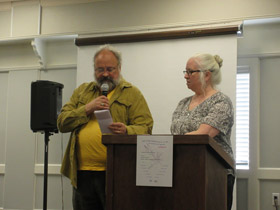 Reading of the night renku by Marshal Hryciuk and Karen Soehne. The title was Whitehorse Trolley and several links had elements related to the Yukon, current events, or things that happened at the conference, such as:
Haiku proclamation

in the sports section

-- renku participant
Also, Philomene Kocher (who couldn't make it to the conference) mailed some frog-shaped ginger cookies and they became the subject of a renku link.
Next year's conference
Terry Ann Carter announced the next 2017 conference will take place in Mississauga, Ontario (close to Toronto).
The end
At the end of the conference, everybody was packing up their books. I wrote "Haiku" on the Buddha board and watched word slowly disappeared.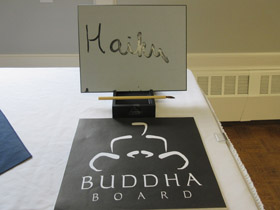 Walk and BBQ at Kathy Munroe's house
We carpooled to Kj Munroe's house. Her daughter was driving us. We questioned her about wildlife. "You don't have to go too far on the highway to see wildflife," she said. She saw some lynx. "It's a big year for lynx"
The walk give us a chance to experience a bit of Yukon's wilderness.
The trees were skinny and the grounds was covered in purples flowers called lupines. Our destination was Ice Lake. In the water, what we thought were small fish, were actually hundreds of fresh lake shrimps.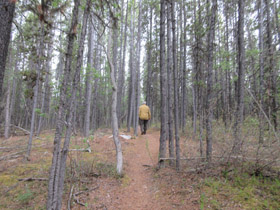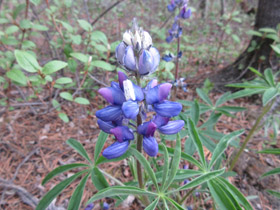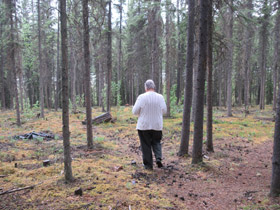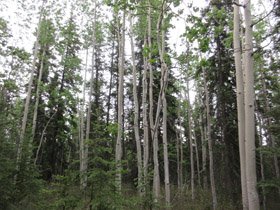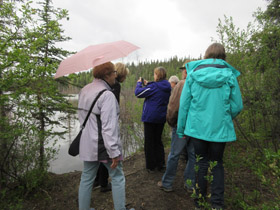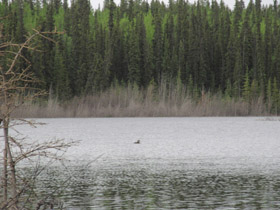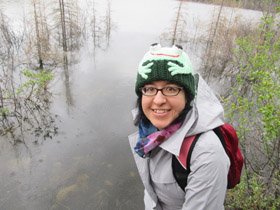 BBQ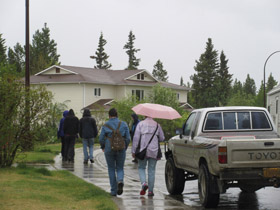 Monday May 23 2016
The post-conference activity was an introduction to papermaking workshop with Helen O'Connor at her Pipestove Studio on 606 Black street.
The first technique we used is handbeating. We beat the boiled gambi with mallets until the fiber detached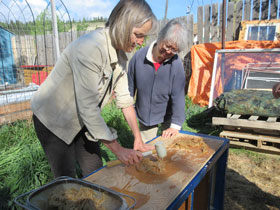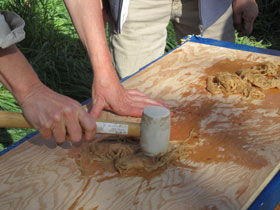 The second technique was to use a blender.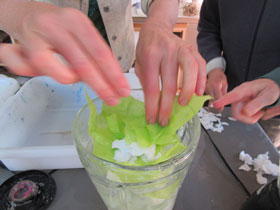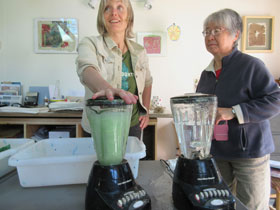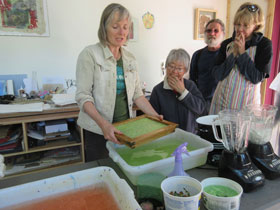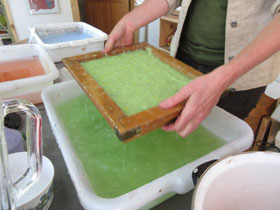 The class worked hard to produce at least 6 sheets for tomorrow's class.Helen was a great teacher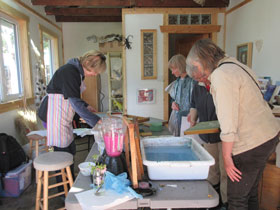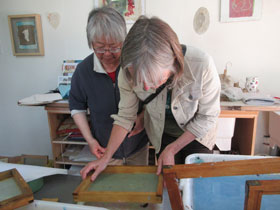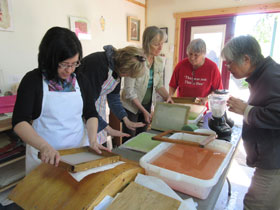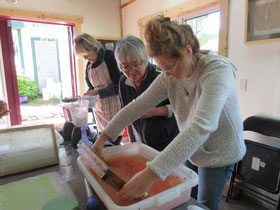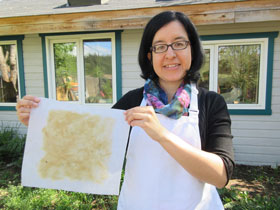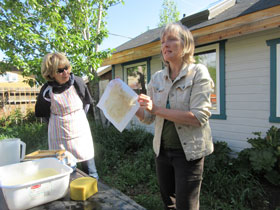 We let the paper to dry until tomorrow.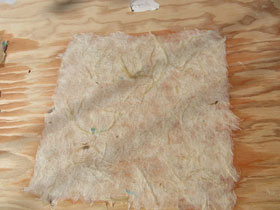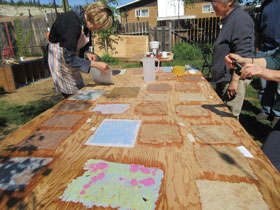 The next day, when the paper was dry, in the second class Helen was going to teach us how to do origami and calligraphy on our handmade paper. Unfortunately, I was not able to attend, but she showed us a sample: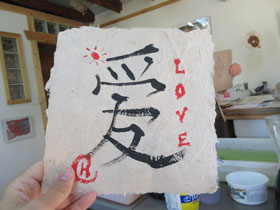 More photos of the Papermaking class available on this Facebook album
The same afternoon, I flew home with AirNorth.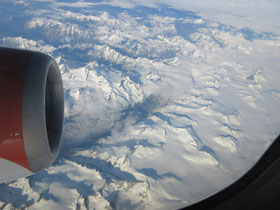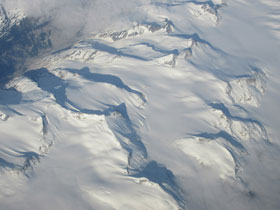 Haiku Canada Weekend 2015 (Victoria, B.C.)
---
The Haiku Canada Weekend 2015 took from May 15-17, 2015 in the beautiful city of Victoria, British Columbia. The theme of the conference was: Coast and Islands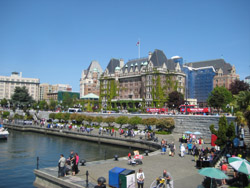 Friday May 15 2015
The ferry ride (90 minutes) from Vancouver to Victoria was pleasant. We even saw three seals playing in the waves as the ferry passed near the shore.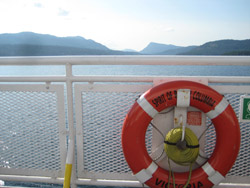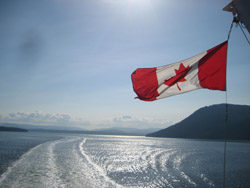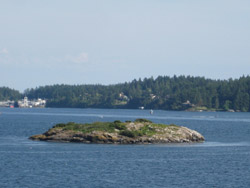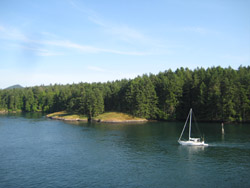 The hotel was located in James Bay area, a quiet neighborhood near downtown Victoria.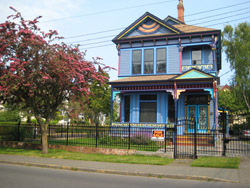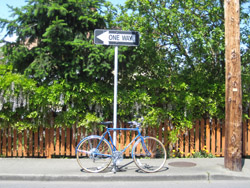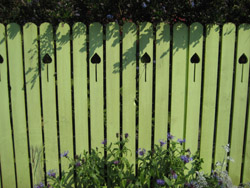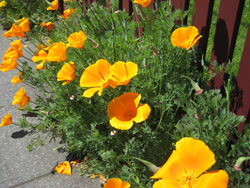 Participants were staying in various hotels in James Bay such as the James Bay Inn. The room had a Victorian charm.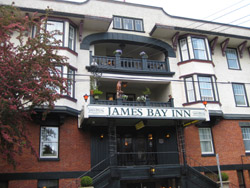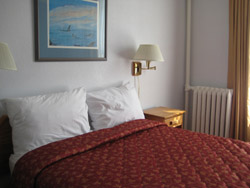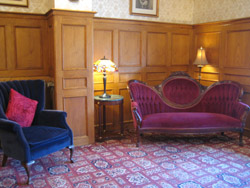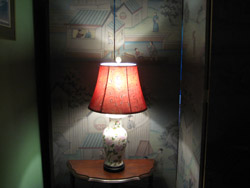 One hour after arriving to Victoria, Jacquie Pearce and I were having afternoon tea at James Bay Tea Room.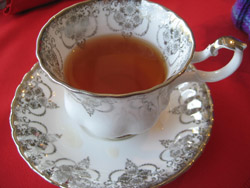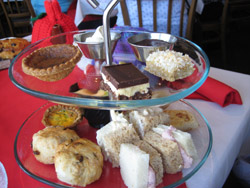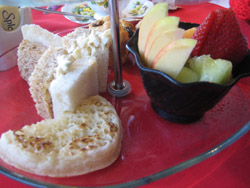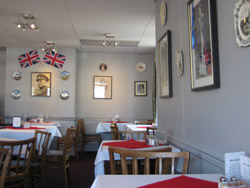 Then, it was time to register.
Location
The conference was taking place at the New Horizons Activity Centre.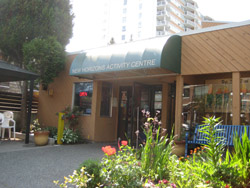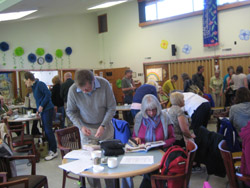 Registration
The conference package was absolutely gorgeous. It included a notebook (created by Terry Ann Carter) that also acted as a nametag.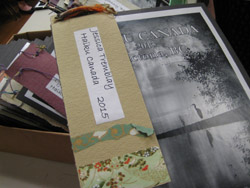 Jacquie Pearce (who wrote a children's book titled Discover Emily) gave an amazing presentation about the life of Emily Carr, a famous Canadian painter from Victoria who painted beautiful landscape from the West Coast and wrote books like Klee Wyck, The House of All Sorts.
Johnny Baranski read haiku accompanied on the jazz piano by Marco Fraticelli. An amazing performance!
Renku party at the James Bay Inn.
Saturday May 16, 2015
Keynote speaker
9-10am They keynote speaker was Gabriel Rosenstock, a reknown haiku poet from Ireland, who gave a talk titled Haiku: The Art of Emptiness.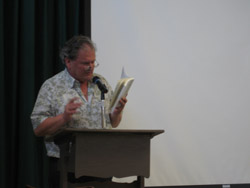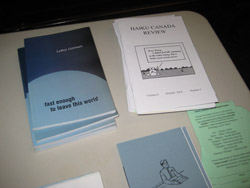 10:30-11:30 Naomi Beth Wakan from Gabriola island talked about her life in Poetry that Heals: a journey from one island to another and linked it to writing exercises, getting us writing a spontaneous haiku starting with the line "Poets together".
2-2:30pm Miriam Sagan (from the blog Miriam`s well) talked about her special relationship with neighbor and haiku poet Elizabeth Searle Lamb.
Calligraphy
2:30-3:00 Shirley Johnson showed us two types of calligraphy - fun and Art Deco (which is used to promote Emily Carr House) - and we practice to calligraph our own haiku. It was so much fun. We even received a nice bookmark so we could calligraph our haiku on it.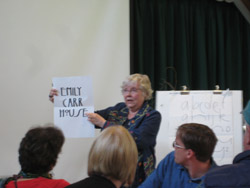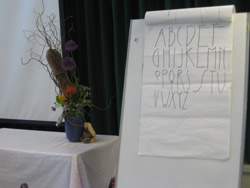 Ginko walk
The ginko walk took place at Emily Carr house.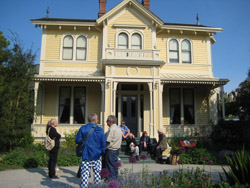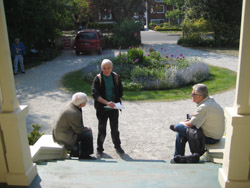 The Emily Carr house (now a museum) was opened just for our haiku group from 4-5pm.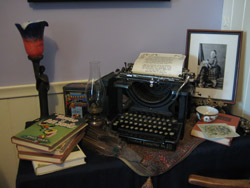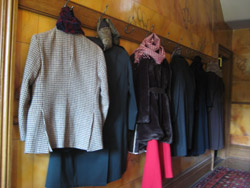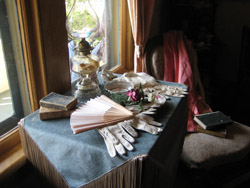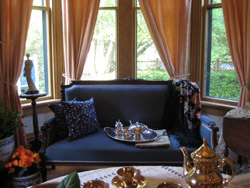 In the back of the house, I was thrilled to find "the elephant", the trailer Emily Carr used on her trip to the rainforest. The trailer was grey and when you open the side panel, it looked like a trunk.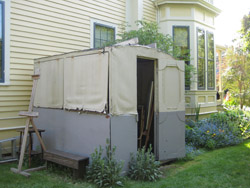 Banquet
The evening was closed with a banquet at Heron's Nest.
Various photos of Victoria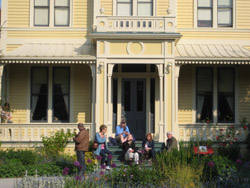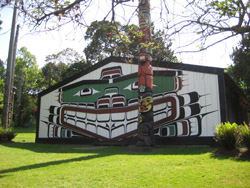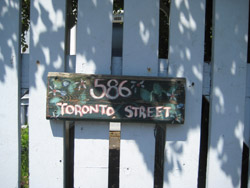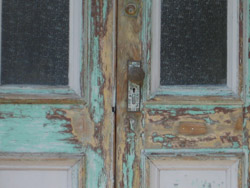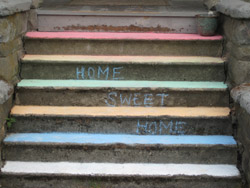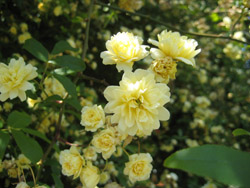 Sunday May 17 2015
9:00 Kj Munro introduced us to Whitehorse, Yukon (that`s where the 2016 conference will take place)
9:30am I did a presentation about haiku and new technology titled Thousand Islands: Publishing Haiku using new technology, from Twitter Haiku to iPad Haiga. I offered an overview of the most innovative haiku projects available on new platforms, such as blogs, Twitter haiku, iPad haiga, podcasts, video poems.
10:00 Claudia Radmore Coutu introduced us to literary haibun. Did you know you can write a haibun (prose followed by ahaiku) based on literary work such as Lewis Carroll or native folks tales?
On our way to the bus depot, we stopped to see the statue of Emily Carr near the Empress Hotel rose garden.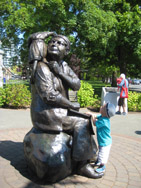 Then, it was time to take the ferry back to Vancouver.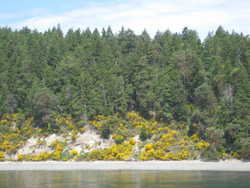 ferry crossing

a seal suspended

in the curve of a wave

the lengthening of space

between us

- Tanka by Jacqueline Pearce (written at HC week-end)
Haiku Canada Weekend 2014 (Ottawa, ON) [top]
---
The Haiku Canada Weekend 2014 took place at Carleton University, Ottawa, from May 16-18, 2014. Participants were staying in the Frontenac residence and the activities took place at the Leeds building.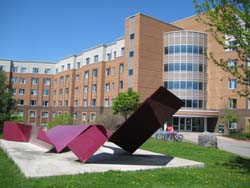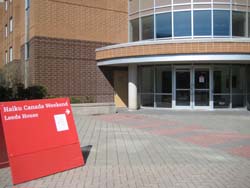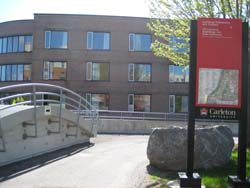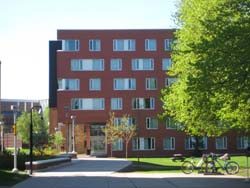 Friday May 17 2014
---
Haiku Canada 2014 Members' Anthology
Launch of Slipping between Seasons: Haiku Canada 2014 Members' Anthology for which I designed the cover and created illustrations. Poets read their poems from the anthology.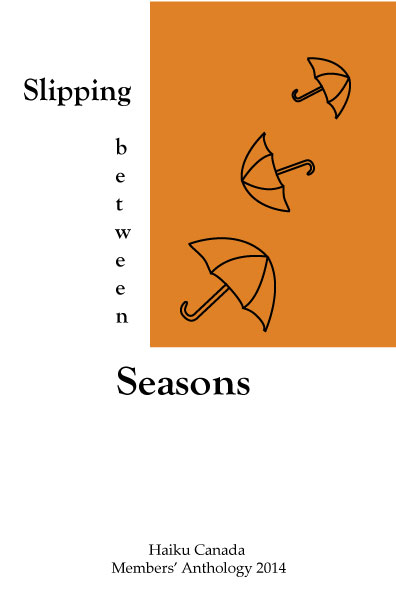 Raw Nervz' 10th anniversary reading by Dorothy Howard.
Renku party
From 9:30pm-1:00am, 15 haiku poets met in the Frontenace Lounge to write a 36-link renku titled Yellow in the leaves. Hans Jongman, upon leaving, dropped pieces of paper with haiku. "You're leaking links!" said Karen Soehne.
After the sixth verse, sake bottles were opened. Poets could sample artisan sake made with different flavours (rose petals, etc.).
Snacks of tortilla chips, almonds, and caramel popcorn were passed around.
waning moon

Cracker Jack sailor boy

enters the renku

- Claudia Radmore-Coutu
Two of my favorite verses of the renku were written by Vicki McCullough:
Fantasy verse (2 lines):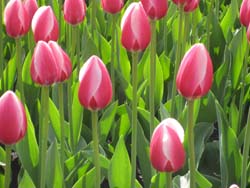 a wormhole to Vega

the only escape

- Vicki McCullough
Requited love (2 lines):
eHarmony

matrimony

rocking pony

-Vicki McCullough
As we approached the end, someone said: "After this, it's the 36th verse, the final verse." "The Hallelujah verse!" said Terry Ann Carter.
We ended with an astronomical verse (2 lines):
the satellite

blinks its way home

-Vicki McCullough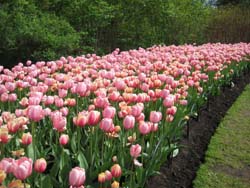 Saturday May 18 2014
---
The Year of the Horse
Stanford Forrester told us he was hospitalized in January and almost died. He wrote this haiku: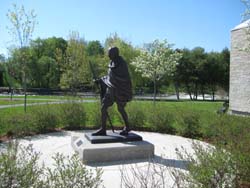 taking me

for a ride

The Year of the Horse

- Stanford Forrester
At the reading, he proclaimed that it should actually have been "The Year of the Snail".
They actually are pretty quiet

the wild flowers.

- Stanford Forrester
Canadian Tulip Festival
After breakfast, I took a long walk to Lake Dowe, the main site of the Canadian Tulip Festival. The tulips were gorgeous. There were so many varieties!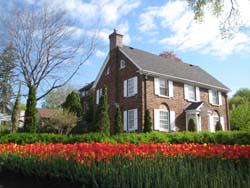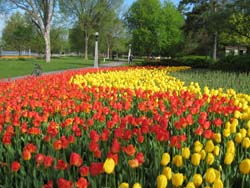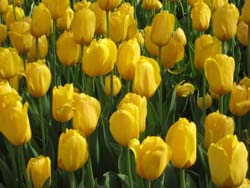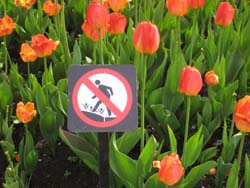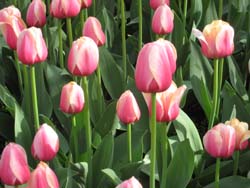 I saw the BeaverTails kiosk, but didn't have time to order a delicious pastry with chocolate.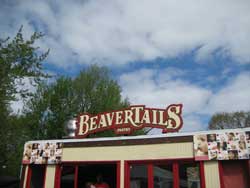 War Haiku
Presentation by Guy Simser on War Haiku. He mentioned that a Japanese general, reporting from the battlefield, ended his report with 2 tankas and 1 haiku.
Gingko walk.
Claude Rodrigue lead a group of French poets (Micheline Beaudry, Jannick Belleau and Diane Descoteaux and I) to see the Locks on the Rideau Canal behind the university. We saw beautiful historical buildings, a boat, the experimental farm, crabapples, groundhogs.
Rideau Canal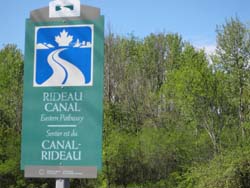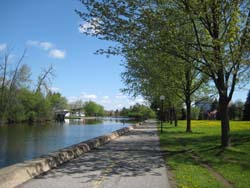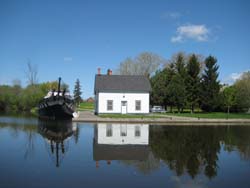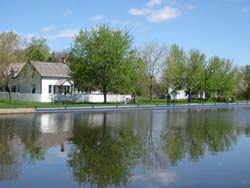 Locks
At five o'clock, the employees closed the locks for the day, saying "It's time for Mac & Cheese"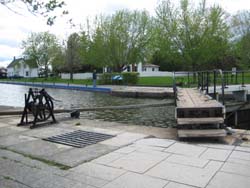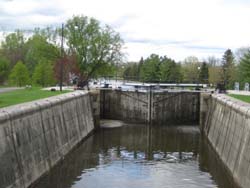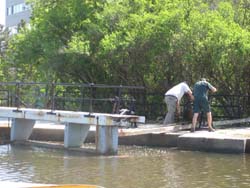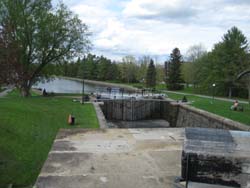 Banquet.
The food, served buffet style, was delicious. Marco Fraticelli (playing Henry) and Terry Ann Carter (playing Celesta Taylor) delighted us with a wonderful performance of Drifting (a book by Marco based the diaries of Celesta Taylor).
Fireworks
A group of haijins (Kathy Munroe, Sheila Bello, Jannick Belleau, Micheline Beaudry, Diane Descoteaux, Claude Rodrigue, and I) went to see the fireworks at Lake Dows. We were right in front of the launching point. The fireworks were spectacular!
Renku party
10:00-1:00 When Kathy Munroe and I arrived at the renku party, the group was tackling the fourth verse. It took a while for us to catch up, but we still managed to get some links in.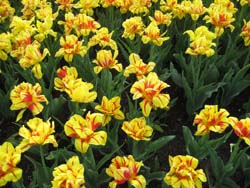 Marshall passed around some treat: "Here comes the jelly beans!" Kathy Munroe wrote:
wild woman
of the north
likes your jelly beans.
- Kathy Munroe (Yukon)
After midnight, when haiku links stopped coming, someone (LeRoy or Marshall) commented: "Linkless in Ottawa."
We still managed to finish a 36-link renku that night.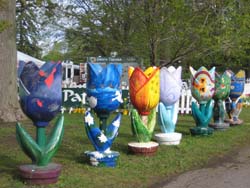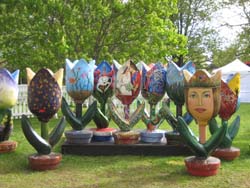 Additional note on the renku (on how poems are selected):
The leader of the renku was Mashall Hryciuk. When we passed our poems to him, he either commented briefly or made a noise.

"Too leafy!" he said of a haiku before putting it on the rejected pile.

Reading and re-reading a poem, he said, "Mmmm. I'm getting used to it." before putting it aside, possibly to be used later.

Sometimes a poem made him think and he would go "Mmmm" then look at you. When you got a "Mmmm" and a look, it was a good sign! Sometimes your poem was accepted as a link in the renku.

But most of the time, it's better luck next time: "Too wet! We already have et leaves." (You can't repeat images or words if they have already been used in the poems before)

Towards the end of an evening, some verses get pretty crazy. "It sounds like sake talk!"
Want to see more?
Photos from the weekend can be seen on the Haiku Canada website at:
http://www.haikucanada.org/conferences/2014OttawaPhotos.php?style=1&page=4016
Photos by Pearl Pirie at:
https://www.flickr.com/groups/1973587@N23/
Videos by volunteer Liana Voia (Ottawa, Ontario)
Haiku Canada Weekend 2014 (13 videos):
https://www.youtube.com/playlist?list=PLX-Gt1Xoj9etOSb5tWDGm7SHezVE2pZVK
 Haiku Canada Weekend 2014:  Marco Fraticelli and Terry Ann Carter in "Drifting" (45 minutes)
https://www.youtube.com/watch?v=kd6_B3CBTro
Sunday May 18, 2014 [top]
---
Hog's falls
After breakfast, I walked to see Hog's Fall, but only managed to see the rapids.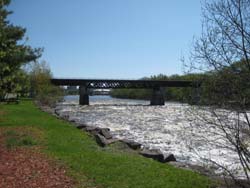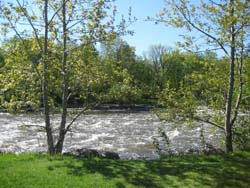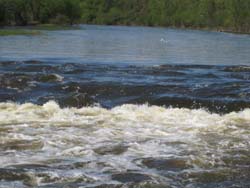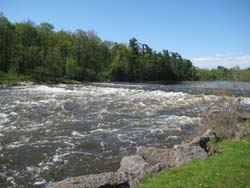 Rideau Canal
I walked back to the Locks where I met Pamela and Ellen Cooper. We walked around the Rideau Canal.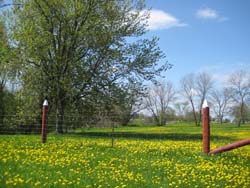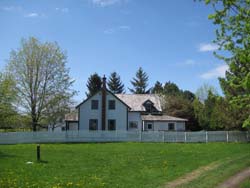 Crabapples
We took pictures of a beautiful crab apple tree on the university campus.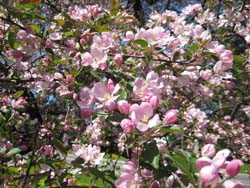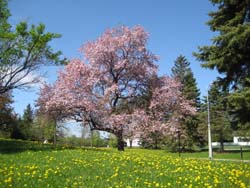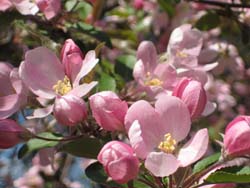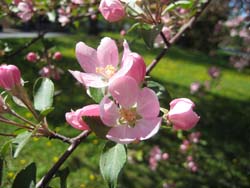 Linked verse
Pamela wrote a link in reply to my haiku: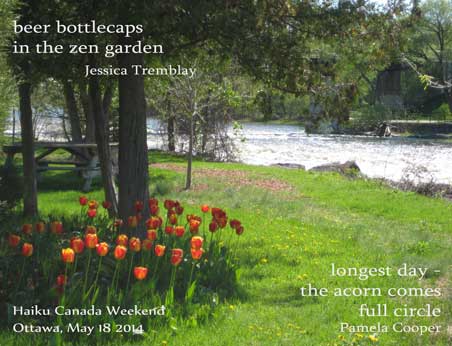 Readings.
Philomene Kocher explained how she was inspired by Jeanne Painchaud's presentation Haiku InSitu at the HC in Montreal. She created an art exhibit, and wrote Sakura Tea haiku to promote haiku in a coffee shop. Her book was published at Catkins Press.
Diane Descoteaux read from her new book inspired by her trips to Japan and Romania. "I don't understand anything in English, but I speak it really well," she joked.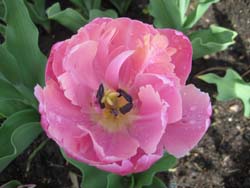 Micheline Beaudry reads from her bilingual bok La Nuit d'eau.
Hans Jongman tells funny stories inspired of his grandsons, such as "Grandpa, later, can we go to the park and scream?". His book That plane is bigger than a cloud is published by Catkins press.
After the conference, Diane Descoteaux and Micheline Beaudry drove me to the airport and we had lunch at the bar&gril overlooking the runway.
Gingko contest winner
I won the second prize of the gingko contest with a groundhog haiku. The prize was a beautiful color photograph by Grant Savage.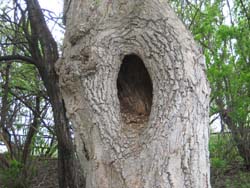 groundhog

starting my haiku

all over again

- Jessica Tremblay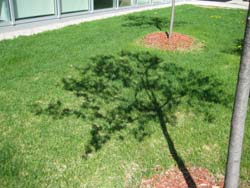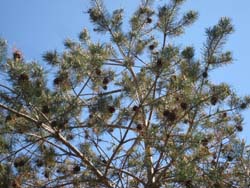 All photos ©Jessica Tremblay
Haiku Canada 2012 (Toronto, ON) [top]
---
The Haiku Canada weekend 2012 took place at the York University Glendon College in Toronto, from May 18 to May 20, 2012.  All the activities took place in the ballroom of Glendon Manor, a beautiful manor with cobblestone, garden at the front, and rose garden in the back.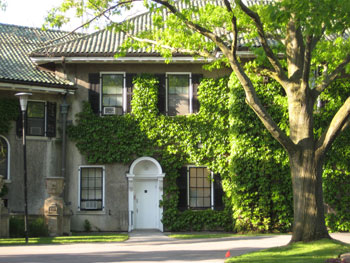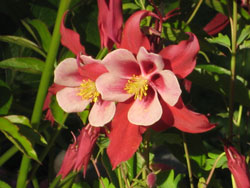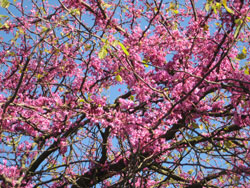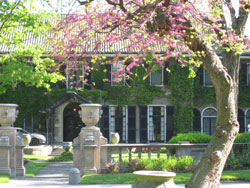 Haiku poets were captivated by the sculpture of a frog riding a turtle in the garden, in front of the fountain.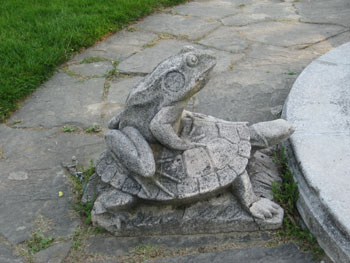 Night Renku
One of my favourite activities at Haiku Canada is the night renku lead by Marshall Hryciuk.  On the first night, with a dozen poets participating, we manage to complete 36 links between 9.00pm and 12.30pm. 
The second night was more difficult, lots of people decided to go to bed early, leaving a small group of us (5-6) to find links to difficult verse such as "kokopelli`s flute".
As we struggled, there were roars of laughters from the next table where George Swede, Anita Krumins and other Living Legends of Haiku Canada, were doing an "anti-renku", a renku that doesn't have any rules and doesn't have to make sense. Our renku was finished at 1:30 am.

Leaving Toronto, one wheel of my luggage broke. I had to pull my luggage. The stuck wheel was leaving a long black mark on the concrete, in the train station, at the airport... you could follow my trail all the way home.
Strangely enough, it was the second set of luggage I lost in the rough streets of Toronto. A few years ago, my first luggage almost caught fire when the stuck wheel created friction that heated up the metal plaque under the bag:

Haiku Canada 2010 (Montreal, QC) [top]
---
The 2010 Haiku Canada week-end took place at McGill University in Montreal from May 21-23 2010. More than 80 people attended (a record number!), thanks to the presence of 3 haiku groups - haikuquebec, Groupe Haiku Montréal and Black Tea Group - and other members coming as far as Vancouver and Japan.
Check out the photos taken by Dave Russo.
Book launch: Angela Leuck "Dusting the Buddha" (Collection Hexagram) ; Barry George, "Wrecking Ball and other urban haiku" (I helped read the French translation of Barry's haiku).
Bilingual presentation of Micheline Beaudry & Mike Montreuil "L'américanité des poètes canadiens-français"
Jeanne Painchaud "Haiku InSitu"
Terry Ann Carter and Angela Leuck "Teen Haiku", 
DeVar Dahl and LeRoy Gorman "Haiku in School"
Luce Pelletier and Huguette Ducharme read "Renku Ete Salsa"
I met Elsie Surena, a haijin from Haiti.
Favorite haiku moment: Claude Rodrigue, Jean Dorval and I were sitting on a bench on Mont-Royal, after the ginko, when a gust of wind made hundreds of maple keys fall on us.
Claude Rodrigue won 1st prize in the French kukai with the haiku he wrote during our walk:
Panneau d'autobus
"recyclez votre vieux bazou"
odeur d'essence
-- Claude Rodrigue (Baie-Comeau, QC)
Haiku Canada 2009 (Vancouver, BC) [top]
---
The conference
The Haiku Canada 2009 conference took place from May 15-17 2009 at the University of British Columbia in Vancouver, BC.
I did my first reviews of a haiku conference in comics. The comics were posted on my blog after the conference. The seven comics were so popular that I continued the tradition of reviewing conference sessions each time I attended a conference after that.
Highlights of the conference:
The beautiful location of Vancouver.


Renku party with Karen Soehne and Marshall Hryciuk

Presentation of the book Haiku for the 21st Century from the Modern Haiku Association by Winona Baker.

Discovering Gusts: Contemporary Tanka journal.

Michael Dylan Welch on déjà-haïku 

Ginko walk at the Nitobe Japanese Garden.

More highlights:
Greeting of Haiku Canada President DeVar Dahl
Janick Belleau on women and haiku.
Joanne Morcom on yoga laughter
Ginko at Nitobe Garden (kukai)
Carole MacRury reads from her book "In the Company of crows"
Winona Baker received an hommage and reads from the book Japanese Gendai
Marco Fraticelli, presents Hexagram series.
Morning renku with Alice Frampton
Haiku Canada 2007 (Ottawa, ON) [top]
---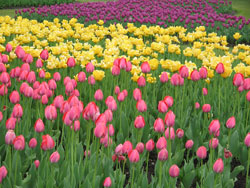 The conference
Haiku Canada 2007 conference was held at the Carleton University, in Ottawa, from May 18-20 2007. Each participants received a beautiful Haiku Canada 30th anniversary coffee mug imprinted with the theme of the conference "Blossoming".
Some highlights
The holographic anthology "Blossoming" was launched: 82 pages of original art and poems by Haiku Canada members.
Book launch included: Flower Heart by Angela Leuck and The Haiku Apprentice by Abigail Friedman.

Philomène Kocher and Marjorie talk about their experience, giving a haiku workshop to patients with Alzheimer.
Rick Black presents Turtle Light Press et reads poems in hebrew.
I meet Angelee Deodhar from India who created a show mixing classical indian dance and haiku
The ginko
I spend time with Micheline Beaudry and Mike Montreuil. We walked to Lake Dowe, where the tulip festival is taking place, for our ginko walk.
Haiku Canada 2006 (Vancouver, BC) [top]
---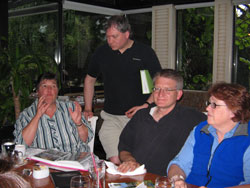 The Haiku Canada Week-end 2006 took place from May 19-21 at the University of British Columbia, in Vancouver.
The ID badge was a branch of cherry tree. There were about 40 participants (mostly Canadians) including 6 Americans, 3 Australians, 4 Japanese.
Ginko at Nitobe Garden
Alice Frampton won the first prize in the kukai with her beautiful haiku written during the ginko walk at the l Nitobe Japanese garden:
maillard pair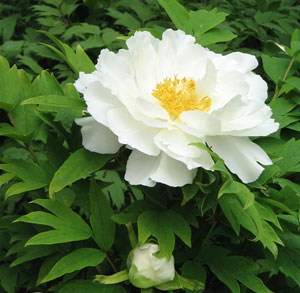 he rocks
on her wake
- Alice Frampton
Renga
During the walk in the garden, Michael Dylan Welch asked if I want to participate in a renga. I wrote a haiku and he added two lines:
floating leaf
a raindrop
pushes it in (JT)
at the video store
titanic out of stock (MDW)
Some highlights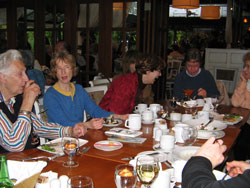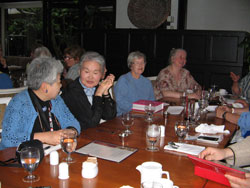 Howard Lee Kilby tells us about a zen retreat in Paris.
Mariko Kitakubo performs a traditional japanese dance for us.
Heather Isaacson et Joyce Taylor, from Alberta, reads cowboy haiku. Following their presentation, Haiku Canada DeVar Dahl can't resist reciting his famous haiku:
my best moo
all the cows look up
in silence
-- DeVar Dahl
90 frogs
I ask Tenzing how he got the idea for his book 90 frogs. To celebrate his mother's 90th birthday, he wrote 90 haiku on origami frogs and placed them in a box, with the book, as a gift.
Ginko at Van Dusen Garden
We concluded the week-end with a ginko Van Dusen Botanical Garden where we were impressed by a row of trees called "Golden Tears".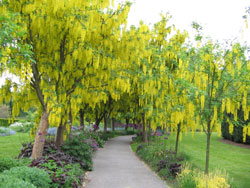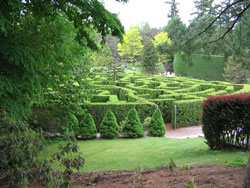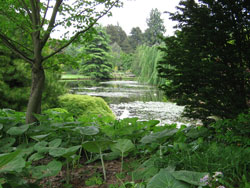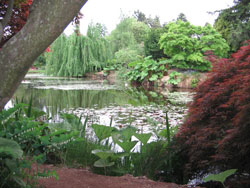 [top]
Next Chapter: Haiku Hot Springs »